Pot Roast with Green Peppers and Pancetta
Pot Roast with Green Peppers and Pancetta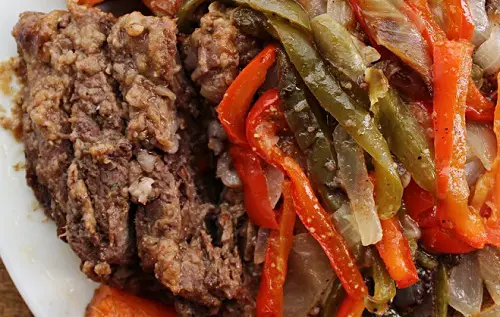 This recipe includes red wine vinegar, a potent enhancement to the powerful influence of pancetta, anchovies, and green peppers.

Ingredients
Yield: 6-8
1 boneless beef chuck or rump roast (about 4 pounds)

Kosher salt and freshly ground black pepper

3 tablespoons vegetable oil

¼ pound pancetta, cut into ¼-inch dice

2 medium onions, chopped into ½-inch dice

8 garlic cloves, minced

2 tablespoons tomato paste

8 anchovies, rinsed and coarsely chopped

½ cup red wine vinegar

4 bay leaves

4 cups Chicken Stock or high-quality canned low-sodium chicken broth, or as needed

2 tablespoons chopped fresh sage

4 green peppers, roasted, peeled, stemmed, seeded, and cut into ½-inch-wide strips

2 cups canned tomatoes, drained and coarsely chopped
Instructions:
Season the meat all over with salt and pepper. Heat the oil in a large braising pan or a Dutch oven over medium-high heat. Add the pancetta and cook until the fat is partially rendered, then remove with a slotted spoon and set aside.

Sear the meat all over in the fat until well browned, then remove from the pan and set aside.

Lower the heat to medium. Add the onions, season with salt and pepper, and sauté until they begin to brown, about 10 minutes. Add the garlic and tomato paste and cook, stirring occasionally, for 4 more minutes. Add the anchovies and vinegar.

Return the meat and pancetta to the pan, then add the bay leaves and enough chicken stock to come one quarter of the way up the roast. As soon as the liquid comes to a boil, lower the heat to a simmer and cover the roast with foil, pressing the foil down into the pan, then place a lid on the pan.

Braise the meat for 3 hours, turning the meat every 30 minutes or so, and adding more stock as needed to keep the juices one-quarter of the way up the meat. Adjust the heat if the liquids are at more than a simmer. The meat should be very tender, offering little resistance when pierced with a fork.

Add the sage, peppers, and tomatoes and cook for an additional 30 minutes. Transfer the meat to a large platter. Skim any fat off the juices. Remove the bay leaves. If the braising liquid seems too thin, increase the heat to medium and cook until the liquid thickens.

Thinly slice the roast and arrange overlapping slices on the platter. Spoon the braising liquid and vegetables over the slices and serve.