Potato Salad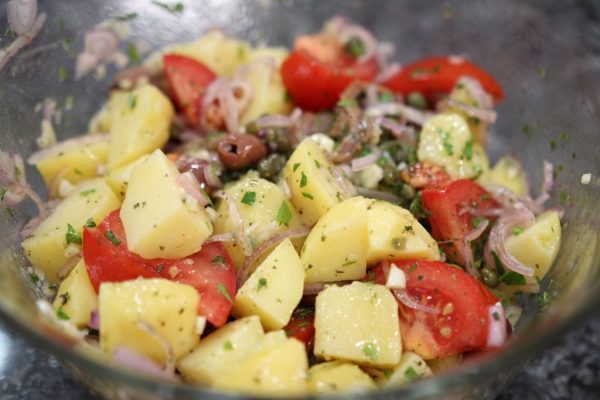 Ingredients
    8 Yukon Gold Potatoes

    2 Tomatoes on the vine stems removed

    1 Shallot thinly sliced

    2 Garlic Cloves minced

    2 oz. Capers

    2.8 oz. Anchovies drained

    5 oz. Kalamata Olives in brine, drained and pitted

    1 Tbsp. Oregano

    Handful of Parsley chopped

    3 Tbsp. Pinot Grigio Wine Vinegar

    1/4 cup Extra Virgin Olive Oil

    Salt and Black Pepper to taste
Instructions
    Begin by boiling the whole potatoes for about 30 min. Drain and let cool before peeling the potatoes. Cut into cubes.

    For the tomatoes, remove the stems and then cut each in half. Slice each half into four equal wedges.

    In a large salad bowl, add in the garlic, shallots, anchovies, olives, and capers. Mix together, allowing the shallot slices to break apart and to break apart the anchovies.

    Place the potatoes and tomatoes into the salad bowl. Add the oregano, parsley, salt, black pepper, vinegar, and olive oil. Lightly toss the salad to mix the ingredients without breaking the potatoes.