Prosciutto Pizza Recipe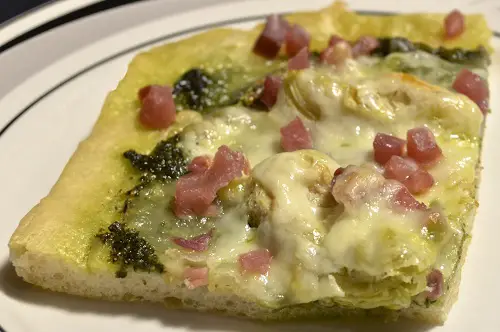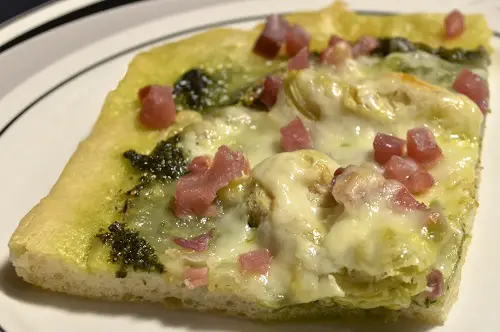 Prosciutto Pizza Recipe
Ingredients
Pizza dough (Recipe follows)

marinated artichoke hearts, well-drained

several asparagus spears, chopped and briefly sautéed in butter or olive oil, drained

diced prosciutto

mozzarella (See Notes)

Fontina cheese, grated

diced prosciutto, garnish
Directions
Pre-heat oven to 425˚ F (220˚ C). Lightly coat a 9 X 13″ (23 X 33 cm) baking sheet with olive oil.

Use a rolling-pin to create a rectangle with the dough. Do not try to make it as large as needed. Place the dough in the center of the baking sheet and, with your fingertips, gently move/stretch the dough until it covers the entire sheet. If the dough recoils, let it rest for 5 or 10 minutes before resuming.

For a slightly thicker crust, pre-cook the crust for 10 minutes in a pre-heated oven before proceeding.

Apply a light coating of pesto to the top of the crust. The less oil used, the better.

Place the artichokes, asparagus, and prosciutto on the crust.

Evenly arrange the mozzarella cheese before covering the entire pizza with freshly grated Fontina cheese.

Bake in pre-heated oven for about 15 minutes, more or less depending upon your preference.
Pizza Dough Recipe

Makes two Pizzas
Ingredients
300 g bread flour

5 g yeast

1/4 cup sourdough starter

5 g kosher salt

160 ml water

25 ml olive oil
Directions
Combine all ingredients and, using a stand mixer's dough hook, knead until a nice dough forms.

Separate into 2 equal parts. (about 10 oz or 280 grams apiece.)

Place each in lightly oiled, container with lid, cover, and place in a warm place for an hour or until doubled in size.

Punch down dough, re-cover, and let rise again till doubled — about 1 hour more.

Take one ball of dough, wrap it tightly in plastic/cling wrap, and freeze. The night before it's needed, place in the fridge to defrost.

Prepare the remaining dough ball as you would normally when making pizza.