Pumpkin Spice Tiramisu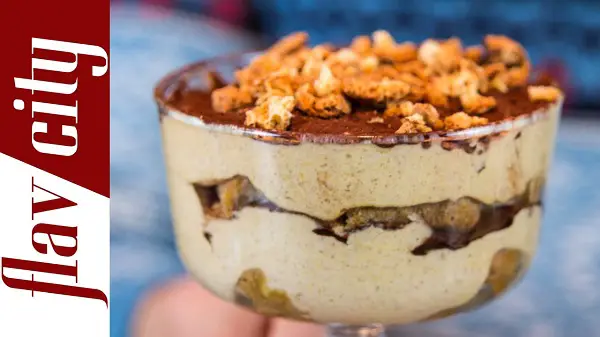 Ingredients:
1 package of lady fingers

8 ounce container Mascarpone cheese

2 cups of coffee or espresso

2 ounces of amaretto liquor

1 can of pumpkin purée

Ground cloves

Pumpkin spice, homemade recipe below

4 tbsp cocoa powder

2 organic eggs, yolks separated from whites

4 tbsp powder sugar

1 package of Italian amaretto cookies
Directions:
Take the mascarpone out from the fridge so it's room temperature.

Using a hand mixer, combine the egg yolks with 2 tbsp of powder sugar and beat for 2 minutes until the mixture is light and fluffy(most important part of recipe). To that mixture, add the pumpkin purée, 2 tspn pumpkin pie spice, 1/4 tspn cloves, and throughly combine.

In a separate bowl, beat the egg whites with a clean hand mixer for 1 minute, add 2 tbsp of powder sugar and continue beating until stiff peaks have formed. Using a spatula, start folding the egg white mixture into the mascarpone mixture until everything is throughly combined. Set aside.

Add 2 cups of room temperature coffee to a bowl(could be leftover from the morning). Add 2 tbsp of pumpkin pie spice , 1/4 tspn ground cloves, and the amaretto liquor to coffee and mix. In another bowl, and the coca powder and another 2 tbsp of pumpkin pie spice and 1/4 ground cloves, mix well.

To assemble the tiramisu, dunk two ladyfingers into the coffee mixture and count to 1, flip the ladyfingers over and repeat(will be mushy if you soak too long). Start adding the ladyfingers to a baking dish or parfait glass until you have 1 compete layer. Next add a layer of the pumpkin mascarpone mixture, and then use a mesh strainer to sprinkle on a layer of the spiced cocoa powder. Repeat this whole process 1 more time and wrap the dish in plastic wrap and let sit in fridge for at least 3 hours, preferably overnight. When you are ready to serve, bash up some amaretto cookies in a zip-top bag, and garnish the top of the tiramisu with it.
*Cooks Note: Instead of buying pumpkin pie spice, you can make it by combining equal parts ground cinnamon, nutmeg, and cloves.