Quaresimali Romani  Italian Cookies for Lent
Quaresimali Romani  Italian Cookies for Lent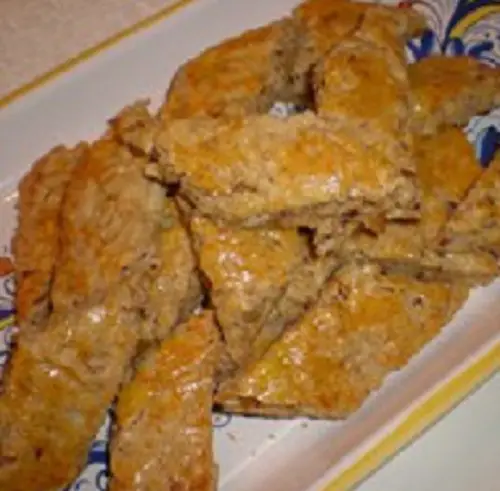 These orange and almond biscotti come from Rome.  Although candied orange peel is traditional in this recipe, you may wish to substitute dried cherries or cranberries which also go well with the grated orange peel.

Ingredients:
From mangiabenepasta.com
(Makes about 36)
4 ounces unsalted butter, room temperature

1/2 cup sugar

1 egg

2 egg yolks, divided

1/2 teaspoon vanilla extract

1 cup flour

1 teaspoon cinnamon

1 teaspoon baking powder

1/4 teaspoon salt

1 cup whole almonds, coarsely chopped

1/2 cup finely chopped candied orange peel

Grated zest of 1 orange
Directions
In a bowl, cream together the butter and sugar unitl light and fluffy.

Beat in 1 egg, 1 egg yolk, and the vanilla.  Add the flour, cinnamon, baking powder, and salt.  Blend to form a dough.  Stir in the almonds, orange peel, and grated zest.  Refrigerate the dough for 1 hour.

Preheat the oven to 375 degrees F.

Cut a piece of parchment paper to fit in a baking sheet.

Place the parchment on a work surface and place the dough on it.  Roll the dough into a 12 x 10-inch rectangle.  (You can also use your hands to spread the dough if it is too sticky.)  Beat the remaining egg yolk with 1 tablespoon of water and brush over the dough.  Bake until shiny and blond but not brown, 12 to 15 minutes.  Remove from the oven and reduce the temperature to 325 degrees F.

With a sharp knife or pizza cutter, cut the dough diagonally into 2-inch wide strips.  Then cut it into 1-inch long bars.  Return the cookies to the oven to bake for another 15 minutes, or until golden

Cool on wire racks.  Store in an air-tight container.