Recipe for Italian "Beans of the Dead" (Fave dei morti)
Recipe for Italian "Beans of the Dead" (Fave dei morti)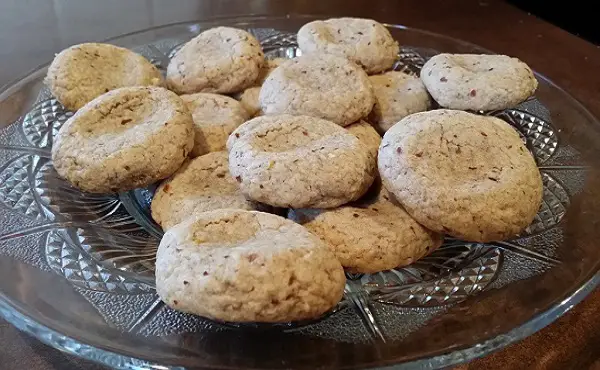 On the day of the Dead, "Beans of the Dead" (Fave dei morti) are eaten in the Veneto resion of Italy.  They're small cookies.  Here's a recipe recommended to me by Emanuela Marsura from Italy.  I gave the measurements in grams and also cups.

Recipe for Fave dei morti (Beans of the Dead)
Ingredients
3 1/2 Tablespoons Softened Butter (50 g.)

3/4 cups Almond Meal/Flour (125 g.)

3/4 cups Unbleached All-Purpose Flour (95 g.)

2/3 cups Sugar (150 g.)

1/2 teaspoonful Vanilla

2 teaspoons Cinnamon

1 Egg

Zest of a Lemon

Food Dye (Optional)
Directions
Preheat the oven to 300F (150C).
Line cookie sheet with parchment paper.
1. Mix together the almond meal and the all-purpose flour.  Set aside.

2. In separate bowl, combine the butter with the sugar, vanilla and cinnamon.

3.  Add in the egg and combine.

4. Add in the lemon zest and combine.

5. Slowly add in the flour mixture and combine.

6. Roll the dough into balls the size of a walnut and place on the cookie sheet (that already has parchment paper on it).

7. Use your pointer finger to make an indentation in the center of the balls of dough.

8. Bake for 20 – 25 minutes until lightly brown.