Red Wine Beef Brasato with Glazed Vegetables
Red Wine Beef Brasato with Glazed Vegetables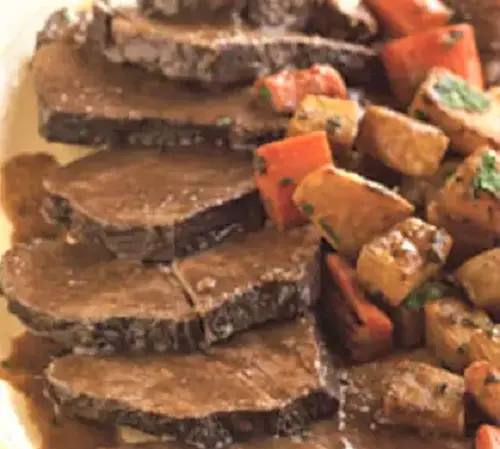 Ingredients:
For the Brasato:
One 750-ml bottle hearty red wine (such as Cabernet Sauvignon)
3 tablespoons extra virgin olive oil
Two 3-pound beef chuck pot roasts
1 large onion, chopped
1 large carrot, peeled, coarsely chopped
1 large celery stalk, chopped
3 garlic cloves, peeled, smashed
1 heaping tablespoon tomato paste
14 ounces beef broth
2 large sprigs fresh sage
2 large sprigs fresh parsley
1 bay leaf
1/2 teaspoon whole black peppercorns
For the Vegetables:
2 tablespoons butter
1 tablespoon extra virgin olive oil
One 1-pound celery root (celeriac), peeled, cut into 1-inch cubes
1 pound turnips, peeled, cut into 1-inch cubes
1 pound carrots, peeled, cut into 1-inch cubes
2 teaspoons sugar
2 tablespoons chopped fresh sage
2 tablespoons chopped fresh parsley
Directions:
Prepare the Brasato:
Adjust rack to lower third of oven.
Preheat to 300°F.
Simmer wine in large saucepan over medium heat until reduced to 1 cup, about 30 minutes.
Meanwhile, heat olive oil in heavy large wide pot over medium heat.
Sprinkle roasts with salt and pepper.
Add 1 roast to pot and cook until brown on all sides, about 13 minutes.
Transfer to large plate; repeat with remaining roast.
Spoon fat from pot.
Add onion, carrot, celery, and garlic to pot.
Sprinkle with salt and pepper. saute over medium-high heat until vegetables begin to brown, about 5-6 minutes.
Add tomato paste; stir 1 minute.
Add broth; bring to a boil.
Add sage, parsley, bay leaf, and peppercorns.
Return roasts and any accumulated juices to pot, tucking roasts to fit in single layer.
Pour reduced red wine over; cover.
Transfer roasts to oven and braise 1 hour and 15 minutes.
Turn roasts over.
Cover and braise until roasts are tender, about 1 hour 15 minutes longer.
Transfer roasts to cutting board; tent with foil.
Strain braising liquid into medium saucepan, pressing on solids in strainer.
Spoon fat from surface of braising liquid; keep liquid warm.
Prepare the Vegetables:
Melt butter with olive oil in heavy large skillet over high heat.
Add celery root, turnips, and carrots.
Sprinkle with salt and pepper. saute until browned in spots, about 8-10 minutes.
Add 1 cup braising liquid from pot roast.
Cover, reduce heat to medium, and simmer until vegetables are tender, stirring occasionally, about 10 minutes.
Uncover, increase heat to high, and bring to a boil.
Stir in sugar.
Add sage and parsley and cook until sauce is reduced to glaze, stirring often, about 1 minute.
Season with salt and pepper.
Cut roasts into 1/2-inch thick slices.
Arrange slices on platter.
Spoon vegetables around roast.
Drizzle some of braising liquid over meat and serve. Makes 6 servings.