Ricotta-cheese-cookies-recipe
Ricotta Cheese Cookies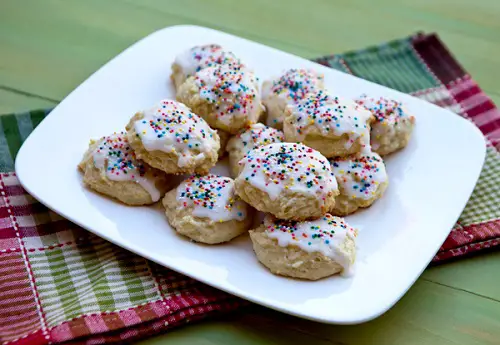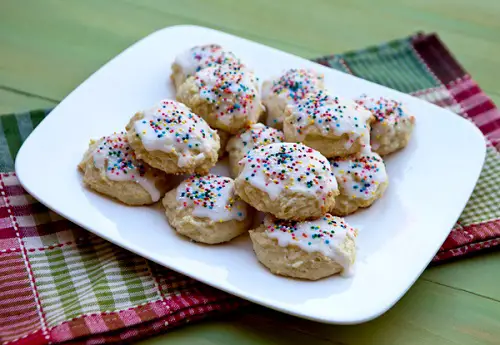 A tender, moist holiday favorite.
Ingredients
2 Sticks Of Butter At Room Temperature
2 Cups Of Sugar
1 (15 oz) Container Of Full Fat Ricotta Cheese
2 Teaspoons Vanilla Extract
2 Eggs, Lightly Beaten
Dash Of Salt
1 Teaspoon Baking Soda
1 Teaspoon Finely Chopped Lemon Zest
4 Cups All-Purpose Flour
Glaze:
1 Cup Powdered Sugar
Lemon Juice
Colored Sprinkles
Instructions
Preheat oven to 350 degrees F.
Mix all the ingredients together until combined. (The dough will be moist.)
Drop by a teaspoon onto a lightly greased cookie sheet.

Bake for about 10 minutes until firm, turning the tray around halfway. (The cookies will be golden on the bottom, but will remain white on top.)

Mix in enough lemon juice with the powdered sugar to make a glaze that can be brushed on.

Lightly coat the tops of each cookie with the glaze and sprinkle with the colored sprinkles.

Let dry fully before storing.