Rigatoni with Pork, Zucchini and Tomatoes
Rigatoni with Pork, Zucchini and Tomatoes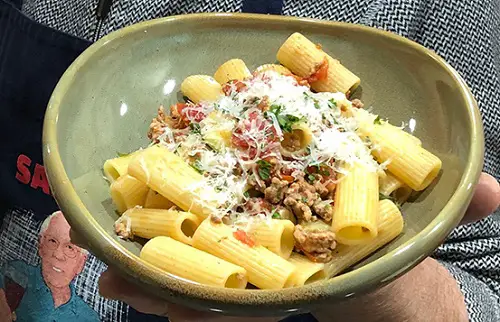 Hello Everybody! Today I am sharing with you my rigatoni with pork, zucchini and tomatoes recipe! Simple, quick and so delicious! Watch the full video to follow along as I cook this recipe step by step or continue scrolling for the written recipe.

Ingredients
    1 lb. Rigatoni

    1/2 lb. Ground Pork

    4 Plum Tomatoes, seeds removes cubed

    1 Lemon halved

    1 Zucchini ends removed and cubed

    1 Garlic clove minced

    5 Basil leaves

    1 hot pepper chopped, optional

    Pecorino cheese, or parmigiana, mozzarella grated, for topping

    Salt to taste

    Black pepper to taste

    Extra virgin olive oil
Instructions
    Bring a large pot of salted water to a boil. This will be used to cook the rigatoni later.

    Begin by washing and preparing all of the produce. Place the cubed tomatoes in a bowl. Squeeze the juice from half of a lemon into the bowl. Mix in salt and black pepper and set aside.

    Add a large drizzle of oil into a saute pan over medium to high heat. Once the olive oil is hot, add in the zucchini and saute for about two to three minutes or until softened. Remove from the saute pan and set aside.

    In the same saute pan over medium to high heat, add another drizzle of oil and saute the garlic and hot pepper for about a minute. Add in the ground pork and saute until fully cooked. Add in the tomatoes and lower the heat to low. Season with salt and black pepper. Make sure to stir to cook evenly.

    Meanwhile, cook the rigatoni for one to two minutes less than the package instructions. Reserve half a cup of the pasta water. Strain the rigatoni and add it into the saute pan. Add in the zucchini and the pasta water and mix together over low heat until fully combined.

    Serve with a sprinkle of cheese on top. Enjoy! Salute and cin cin!