Risotto with Porcini Mushroom
Risotto with Porcini Mushroom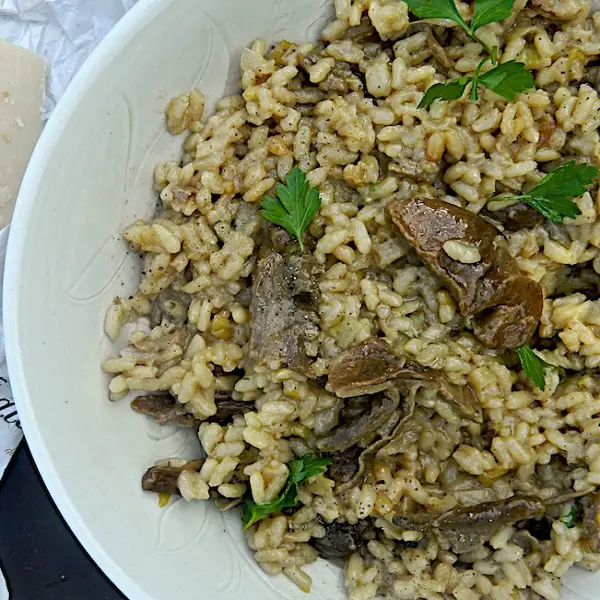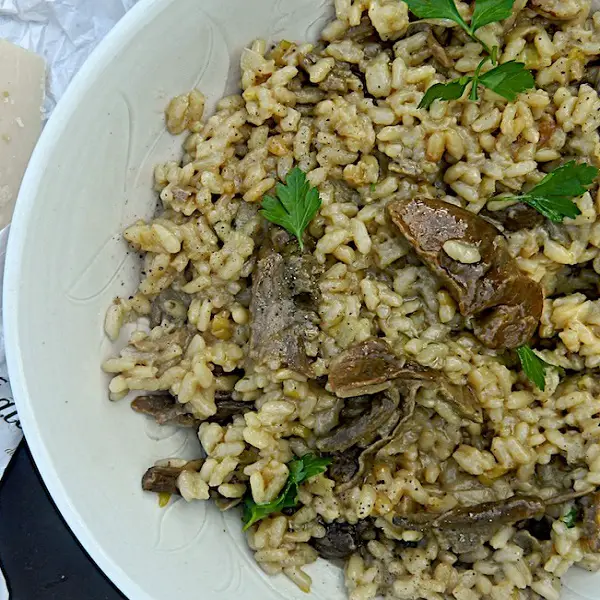 INGREDIENTS,
serves 4
2 handfuls of dried porcini , soaked in warm water for 30 minutes. (They need to be soft and rehydrated before you can use them)

1 leek, well washed and sliced thinly

1-2 springs of thyme

3 tablespoons of extra-virgin olive oil

1 tablespoon of butter+ 1 more just before serving

350 gr (2 cups) of Carnaroli or Arborio rice

1/2 cup of dry white wine

2 lt of stock, brought up to a gentle simmer

1/2 cup of freshly grated Parmigiano

Parsley leaves

Salt and pepper to taste
HOW TO
Stir fry the leek gently with oil and butter, add the thyme springs, 1 couple of tablespoons of water and pinch of salt. Cover with a lid and stew for 5 minutes over low heat to soften the leeks.

Add therice and toast with the leeks until translucent. Be mindful to stir your rice well.

Add the white wine and allow for the alcohol to evaporate, stirring gently. Pour yourself some wine, while you are at it…

Turn the heat down, add your softened mushroom and start adding the stock a ladleful at a time, while stirring gently. For added mushroom flavor, add the porcini soaking liquid to your stock. Taste for salt and adjust accordingly. Keep adding stock until the rice is cooked, this will take around 18 minutes.

Turn off the heat and add a generous dusting of parmigiano, a tablespoon of butter and one ladeful of stock. Stir vigorously to release the starch and create the classic all'onda* texture. Cover with a lid and let it rest for a few minutes to create the perfect mantecatura, creaminess.
Serve it with freshly ground black pepper and parsley leaves.