Roast Beef with Mushroom Gravy
Roast Beef with Mushroom Gravy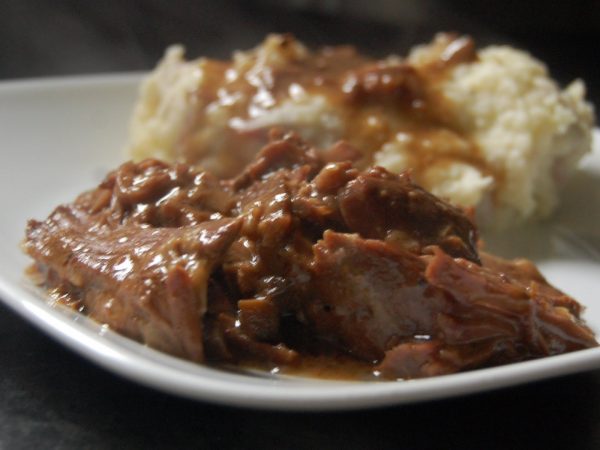 Ingredients
1 2- to 3-pound beef roast
2 tablespoons butter, divided
2 tablespoons olive oil
Salt and pepper
1 pound mushrooms, sliced
1 onion, thinly sliced
2 cloves garlic
1 10.75-ounce can cream of mushroom soup
1 packet mushroom gravy mix
1 cup beef broth or water
Directions
1. In a Dutch oven, heat olive oil and 1 tablespoon of butter over medium-high heat. Season beef roast liberally with salt and pepper. Add beef roast and sear on all sides until caramelized. Add to the bottom of a Crock pot.
2. To same pot, add remaining tablespoon of butter, mushrooms and onions. Cook until mushrooms are brown and onions are soft, then season with salt and pepper. Stir in garlic and cook and stir for 30 seconds. Stir in beef broth and scrape the bottom of the pot with a wooden spoon to release browned bits. Add mushroom mixture to meat in Crock pot.
3. Mix together cream of mushroom soup and mushroom gravy mix. Pour over meat and mushroom mixture.
4. Cook on Low for 8 to 10 hours, until meat begins to fall apart.