Roasted Asparagus Carbonara
Roasted Asparagus Carbonara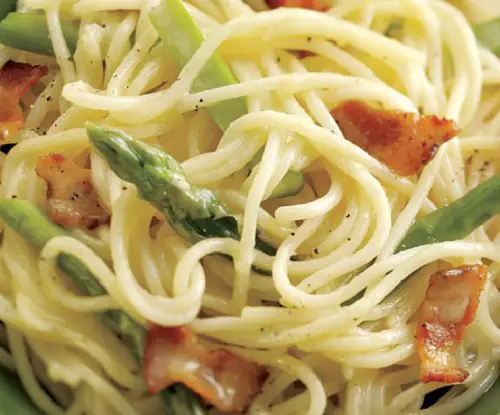 Ingredients
Yields: 4
Prep Time: 20 mins
Total Time: 30 mins
1 bunch asparagus, trimmed and quartered

1 tbsp. extra-virgin olive oil

kosher salt

Freshly ground black pepper

12 oz. linguine or spaghetti

4 slices bacon, preferably thick-cut

2 large eggs plus 2 egg yolks

1/4 c. freshly grated Parmesan
Directions
Heat oven to 400°. On a large baking sheet, toss asparagus with oil and season with salt and pepper. Roast until tender and charred, 18 to 20 minutes.

Meanwhile, in a large pot of salted boiling water, cook pasta until al dente. Drain, reserving 1 cup pasta water, and return to pot.

In a large skillet over medium heat, cook bacon until crispy. Transfer to a paper towel-lined plate and drain half the fat.

In a small bowl, whisk together eggs, egg yolks and Parmesan. Season generously with salt and pepper.

To skillet with remaining bacon fat, add cooked linguine and egg mixture and stir until coated. Add enough pasta water to make a loose, creamy sauce. Stir in roasted asparagus and bacon and serve.