Roasted Broccoli Alfredo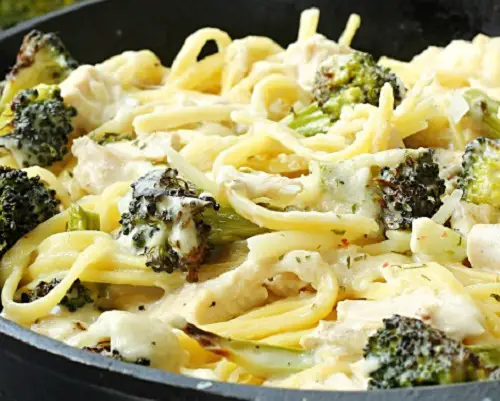 Ingredients

1 pound fettuccine packaged or homemade

2 heads broccoli, trimmed and chopped

2 tablespoons olive oil

1 tablespoon butter

1/4 teaspoon garlic powder

Salt and pepper to taste

2 tablespoons butter

1 8-ounce package cream cheese, softened

1 cup milk

1 cup freshly grated parmesan cheese
Directions
1. Preheat oven to 425 degrees. Cook pasta according to package directions in boiling salted water; drain.
2. Meanwhile, toss broccoli with olive oil, butter, garlic powder, and salt and pepper to taste. Spread in a single layer on a nonstick baking sheet. Bake in the preheated oven, stirring frequently, for about 15 minutes.
3. To make the sauce, melt butter in a saucepan over medium heat. Add cream cheese and milk, stirring frequently. Heat it until it's almost boiling, then stir in cheese and reduce heat to low. Season with salt and pepper to taste.
4. Combine broccoli, drained pasta, and sauce. Stir gently and serve.