Roasted cauliflower with anchovy and parsley sauce
Roasted cauliflower with anchovy and parsley sauce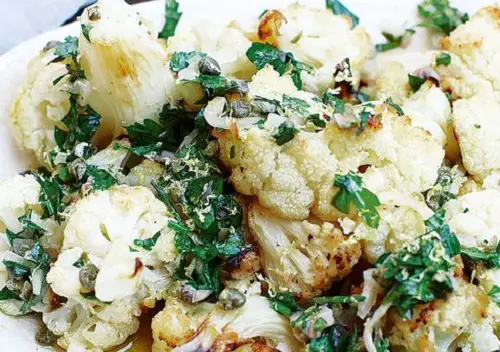 Ingredients
serves 4
Prep Time 15mins
Cook Time 35mins
1 large cauliflower, cut into large florets

100ml extra virgin olive oil

Finely grated zest & juice of 1 lemon

6 anchovy fillets in oil, drained, chopped

1/4 cup (50g) capers, rinsed, drained, roughly chopped

1 eschalot, thinly sliced

1/2 bunch flat-leaf parsley leaves, roughly chopped
Preheat oven to 200°C. Line a large baking tray with baking paper

Cook cauliflower in a large saucepan of boiling salted water for 3-5 minutes until par-cooked.

Drain and return to pan over low heat. Stir for 30 seconds to remove excess water.

Toss cauliflower with 1/4 cup (60ml) oil and 1/2 tsp salt, then place on prepared baking tray, and roast, turning occasionally, for 25-30 minutes until tender and golden.

Meanwhile, to make dressing, place lemon zest and juice, anchovies, capers, eschalot, parsley and remaining 2 tbs oil in a jar, seal, then shake to combine.

Arrange the cauliflower on a platter, drizzle with the dressing and season with freshly ground pepper to serve.