Roasted Cauliflower with Black Olives and Bread Crumbs
Roasted Cauliflower with Black Olives and Bread Crumbs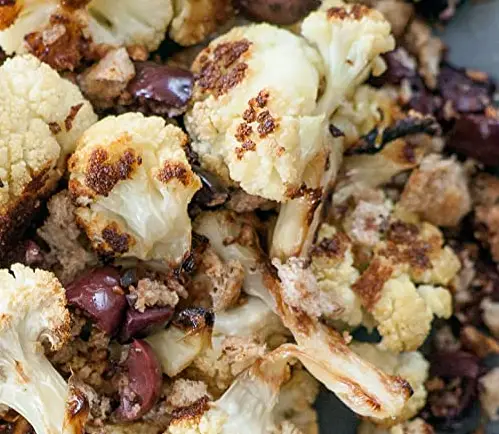 Ingredients:
Serves 6
1 head cauliflower, trimmed and separated into large florets

1/4 cup Italian oil-cured black olives, pitted and coarsely chopped

2/3 cup fresh bread crumbs

2/3 cup extra-virgin olive oil

Sea salt

Freshly ground black pepper
Directions:
Preheat oven to 375°F.

Toast bread crumbs on a sheet pan in oven until golden brown, about 6-8 minutes.

Remove from oven and set aside to let cool.

Increase oven temperature to 450°F.

Heat olive oil in a large ovenproof nonstick skillet over medium-high heat until hot but not smoking.

Add cauliflower and stir to coat with the olive oil.

Cover with a heavy lid slightly smaller than the diameter of the skillet to weight down florets and press firmly.

Cook cauliflower until dark brown, about 10-12 minutes, stirring occasionally and checking every 2 minutes or so for color. If florets get too dark too quickly, reduce heat to medium.

Transfer skillet with lid to oven and cook until cauliflower is tender when pierced with the tip of a knife, about 5-7 minutes.

Place cauliflower and any juices into a large bowl.

Add olives and bread crumbs.

Season to taste with salt and pepper.

Toss well and adjust seasonings.