Roasted Lemon Chicken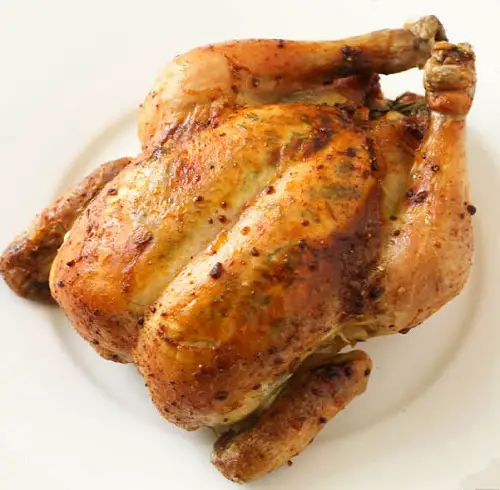 INGREDIENTS
One 4 to 5 pound roasting chicken

1/4 cup of extra-virgin olive oil

2 Tbls of butter

3 lemons

2 Tbls of lemon zest

1 tsp of dried oregano

2 cloves of garlic, chopped

1/4 cup of fresh parsley, chopped

1/2 tsp of salt

1/2 tsp of fresh ground black pepper

PREPARATION

Pre-heat the oven to 400 degrees.

Separate the skin on top of the chicken to form a pocket.

Place a couple of pats of butter and slices of lemon under the skin of the chicken.

Rub the chicken all over with the olive oil and season with salt, pepper, garlic, lemon zest and oregano.

Squeeze the remaining lemon all over the top.

Sprinkle with parsley.

Place the chicken on a v-shaped rack in a roasting pan.

Roast for around 20 minutes.

Reduce the heat to 375 degrees and roast for 40 minutes more until juices run clear.

Plate the chicken and spoon the remaining juice from the pan over the top.