Roasted Pepper Egg Salad with a Balsamic Vinaigrette
Roasted Pepper Egg Salad with a Balsamic Vinaigrette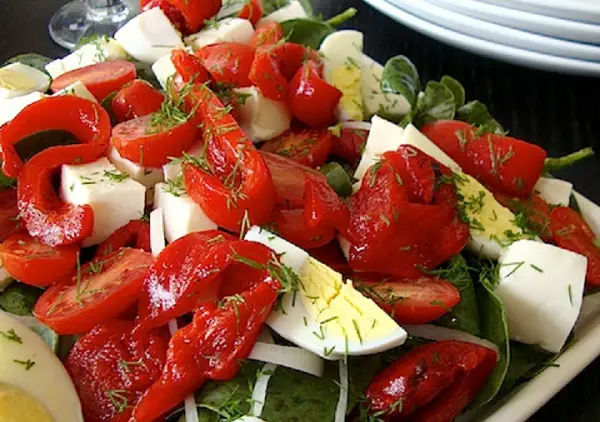 Ingredients
Salad:
4 cups baby spinach

2 large roasted red pepper

1/2 pound fresh mozzarella

1/2 small white onion, sliced

3 large hard boiled eggs, cut into wedges

1 cup cherry tomatoes

Sea salt salt and black pepper
Directions
Arrange salad ingredients on a large serving platter.

Season to taste with sea salt and black pepper.
Balsamic Vinaigrette:
Ingredients
1/4 cup good quality balsamic vinegar

1 teaspoon raw brown sugar

1 small garlic clove, chopped

1/2 teaspoon salt

1/2 teaspoon black pepper

3/4 cup extra virgin olive oil.
Directions
Combine all the ingredients in a blender and blend to fully combine.