Roasted Sweet & Smoky Brussels Sprouts with Pancetta
Roasted Sweet & Smoky Brussels Sprouts with Pancetta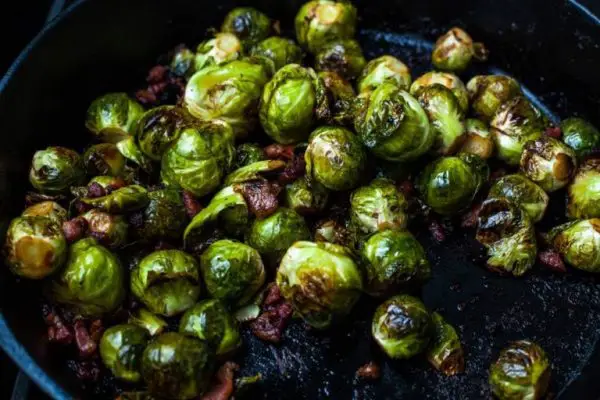 Ingredents
1 stalk of Brussels sprouts, rinsed, ends trimmed, and rough outer leaves of larger sprouts removed
3 cloves of garlic, finely minced
1 tbsp apple cider vinegar
4 oz pancetta, finely diced
2 tsp salt
Freshly ground black pepper
2 tbsp Sugar Bob's Smoked Maple Syrup
Sourdough bread, sliced ½ inch thick
Cranberry Sauce  or use
Directions
For the Sprouts:
Preheat oven to 400°F.
In a cast iron pan or another stove-to-oven pan, cook the pancetta until browned.
Using a slotted spoon remove the cooked pancetta and turn off the heat.
Place the trimmed Brussels sprouts in a large bowl. Toss with garlic and apple cider vinegar.
Add sprouts to the pan and toss them in the reserved pancetta fat.

Sprinkle liberally with salt and a few turns of black pepper.
Roast the sprouts for 30 minutes total. At 15 minutes take the pan out to stir and add a splash of water to loosen up any crispy bits.
Cook for another 13 minutes. At this time stir the sprouts aggressively to loosen up outer leaves. Add the pancetta bits to the pan and add the smoked maple syrup.

Return to the oven for another 2 minutes or so.
Sprouts should be browned in spots and yield slightly at the push of the spatula.
This method produces a cooked sprout throughout, with a crispy exterior.
For the Grilled Cheese
Makes two sandwiches
Pile ¼ of the Gruyere on two slices of bread.




Add roughly chopped sprouts and pancetta bits on the cheese. Add a dollop of cranberry sauce in the middle.

Pile the rest of the cheese equally between the two sandwiches. Top with the other slices of bread. The sandwiches should look colossal and impossible to eat.

Grill one sandwich at a time. Transfer a sandwich to a griddle primed with butter. Use a heavy pan to weight the sandwich – like a panini press. As the bread becomes crispy, the weight of the pan will help to melt the cheese in the middle. After a few minutes peek under the sandwich to see if it's done – golden brown in color. Flip and cook again on the other side.
Join Joanne and Frank on Facebook at
and