Roasted Tomatoes and Zucchini
Roasted Tomatoes and Zucchini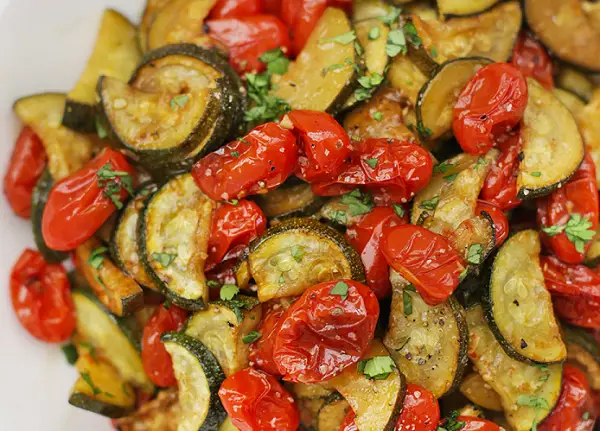 Ingredients
    4 Medium Zucchini, cut into large chunks

    2 pints Cherry Tomatoes, washed

    3 Cloves Garlic, roughly chopped

    2 Tbsp Extra Virgin Olive Oil

    ¼ cup Fresh Basil, chopped

    Salt and Pepper (to taste)

1 cup Freshly Grated Parmiggiano Reggiano
Preparation
    1) Preheat your oven to 450 degrees and place a large nonstick baking sheet in the oven to preheat for 10 minutes.
    2) In a large bowl toss together the zucchini, tomatoes, garlic, olive oil and season with salt and pepper to taste.
    3) Once the baking sheet is preheated add the vegetables and sprinkle the grated parmiggiano evenly over the top covering every piece of veggie.
    4) Bake for 15 to 20 minutes, or until the cheese is light golden brown. (check it after 15 minutes, if it is not browned enough on top just turn your broiler on for a minute, but keep an eye on it because it can burn within seconds)
    5) Once ready sprinkle over the fresh basil and serve immediately!
    6) This is a perfect side dish to any meal, but it is so delicious on it's own that it can be the main entrée any night at my dinner table!