Roasted Vegetables with Rosemary Fennel Fish
Roasted Vegetables with Rosemary Fennel  Fish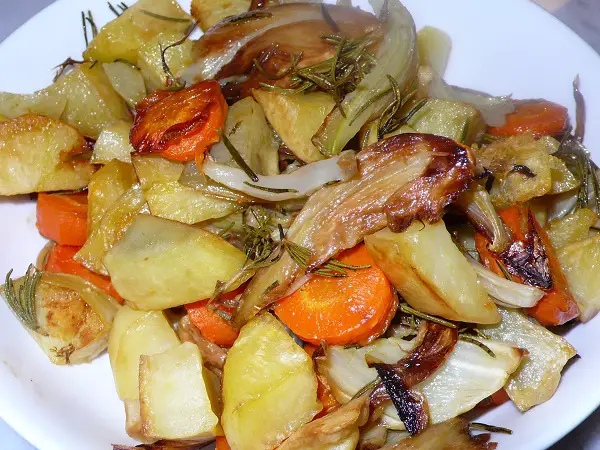 Ingredients
    2 spigole (or any other medium sized fish), scaled and cleaned

    1 medium onion, sliced into rings

    2 fennel bulbs, cut into 8ths

    a generous handful of fennel fronds from 2 fennel bulbs

    3 medium potatoes, cut into 2-inch pieces

    2 large carrots, cut into 1-inch medallions

    2 rosemary stalks, divided

    5 tbsp extra-virgin olive oil, divided

    salt and pepper
Directions
Preheat the oven to 425°F.

Toss fennel, potatoes, carrots and the rosemary leaves from one stalk with 3 tbs of olive oil and a generous pinch of salt.

 In a large roasting pan (with or without parchment paper) distribute the vegetables and place them on the middle rack in the oven.

You want them to roast for about 30 minutes or until browned and cooked through.

In the meantime, cut out 2 sheets of parchment paper or aluminum foil, place them on a cookie sheet and brush with olive oil.

Distribute the onion rings evenly between the two packets. Cut the remaining stalk of rosemary in half and stuff in the cavity of each fish along with the fennel fronds, add a pinch of salt and drizzle about a tsp of olive oil inside each cavity.

 Place the fish on top of the onion, add a drizzle of olive oil and a sprinkle of salt.

Fold over the parchment paper to enclose it completely and seal the edges.

Bake for 30 to 40 minutes at 350°F or until the fish is cooked through.

The vegetables may finish before the fish, cover to keep warm and serve with the fish.

If you cook them together, they will get nice and soft inside with the lower cooking temperature.

Clean and serve the fish with the roasted vegetables.