Roman Gnocchi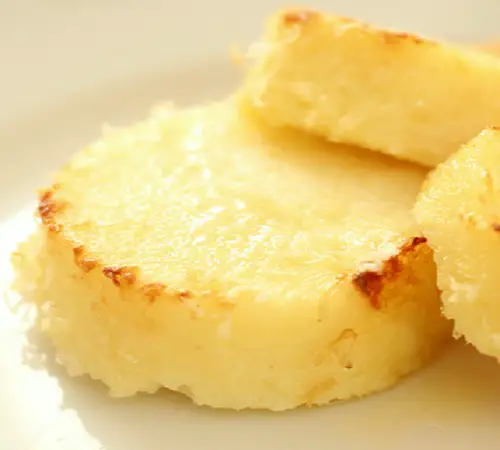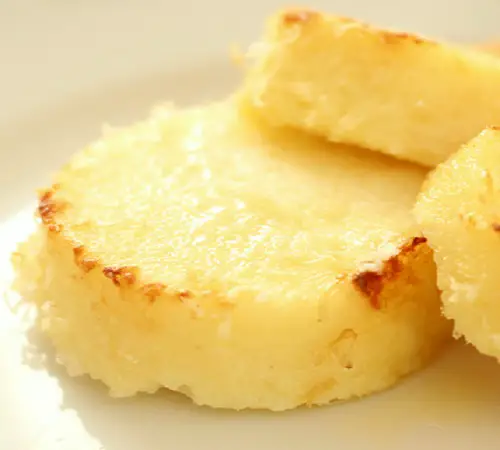 Serves 4-6
Ingredients
3 3/4 cups whole milk
1 1/2 teaspoon salt
Pinch nutmeg
1 1/2 cups of semolina flour
5 tablespoons salted butter plus 1 T for buttering the pan
1 large egg and 1 yolk (both beaten)
3 1/2 oz Gruyere cheese, shredded
2 teaspoons dried rosemary
3/4 teaspoon baking powder
3 tablespoons Parmigiano
Directions
1. Adjust oven rack to middle position and heat to 400 degrees.
2. Heat milk, salt and nutmeg in a medium saucepan over medium heat until bubbles form around the edges of the pan. Whisking constantly, gradually incorporate the semolina flour into the milk mixture, eliminating any larger clumps as they form.
3. Reduce the heat to low and cook, stirring often with rubber spatula, until mixture is stiff and pulls away from the sides when stirring (3-5 minutes).  Remove from heat and let cool for 5 minutes.
4. While the mixture cools, liberally butter a cast iron skillet.
5. Stir 5 tablespoons of butter, the beaten egg, and beaten egg yolk into semolina mixture until incorporated (the mixture will slowly become smooth and shiny).  Stir in the shredded Gruyere, dried rosemary and baking powder until incorporated.
5. Fill a small bowl with water. Moisten a 1/4 dry measuring cup with water and scoop an even portion of dough into the cup. (Be sure to dip measuring cup in water after each scoop as this prevents the dough from sticking). Ease gnocchi out of the cup and into skillet. Begin arranging by overlapping the gnocchi around the outside edge of the pan. Continue, forming concentric circles with overlapping gnocchi until you reach the center.
6. Sprinkle gnocchi with Parmigiano Reggiano and bake for 35-40 minutes until golden brown. Let cool for 15 minutes and serve with your favorite sauce.