Roman style eel recipe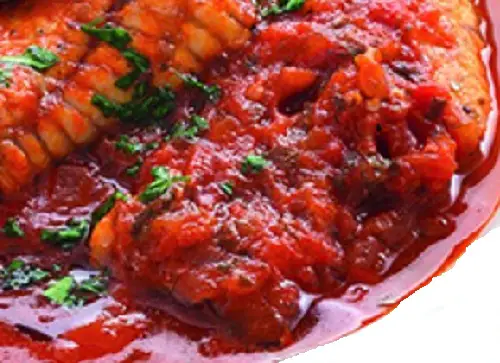 Ingredients for 6 people:
1 eel of about 1.5 kg
½ box of tomato concentrate
1 clove garlic
2 carrots
6 potatoes
1 celery
chopped parsley
butter
olive oil
salt, pepper.
PREPARATION
Eviscerated and skinned eels then cut into pieces. Apart finely chopped vegetables and cut the potatoes into cubes then put the chopped vegetables in a large saucepan with 3 tablespoons of oil and 40 grams of butter and cook over low heat for a few minutes, stirring often, then sprinkle with the concentrate tomato you have previously diluted in a glass of warm water. Cook on low heat for about 15 minutes, add the potatoes and continue cooking for another 30 minutes.
After this time, add the pieces of eel, salt and pepper and continue to simmer for another 40 minutes over a low heat. If the sauce were too dry, drizzle with a little warm water.
Once in the cooking remove the eel from the sauce and lay them on a serving plate, then pass the vegetables through a sieve and pour over the fish.