Rustic Vegetable Pie with Dandelions
Rustic Vegetable Pie with Dandelions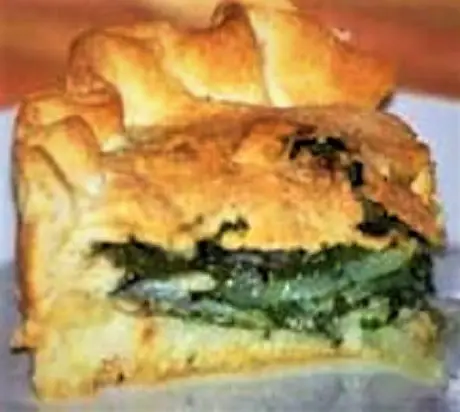 Ingredients:
1 lb and 2 oz (500 grams) Swiss chard
1 lb and 2 oz (500 grams) spinach
1 lb and 2 oz (500 grams) wild salad leaves such as dandelion rucola,and borage,
2 leeks, trimmed and sliced
2 zucchini, sliced
2 eggs
2 oz (50 grams) Pecorino cheese, grated
1/4 pint (150 ml) extra virgin olive oil
11 oz (300 grams) plain flour, plus extra for dusting
Salt and pepper
Directions:
Cook the spinach, chard, salad leaves, zucchini and leeks in salted, boiling water for about 5-10 minutes until tender.
Drain, squeeze out as much liquid as possible and coarsely chop.
Beat the eggs with the Pecorino cheese.
Add the vegetables and 6 tablespoons of the olive oil.
Season with salt and pepper.
Mix well and leave to stand.
Preheat the oven to 200°C (400°F) Gas Mark 6.
Line a rectangular pie dish with baking parchment.
Sift the flour with a pinch of salt into a mound on a work surface.
Make a well in the centre.
Add the remaining olive oil and 9 fl oz (275 ml) of warm water.
Gradually incorporate the flour using your fingers.
Knead well.
Roll out on a lightly floured surface into two rectangles, one larger than the other.
Line the pie dish with the larger sheet and spoon in the vegetable mixture.
Cover with the smaller sheet of pastry.
Trim and crimp the edges to seal.
Make a hole in the centre.
Bake for 30 minutes.
May be served warm or cold. Serves 6-8.