Salmon with Braised Artichokes and Olives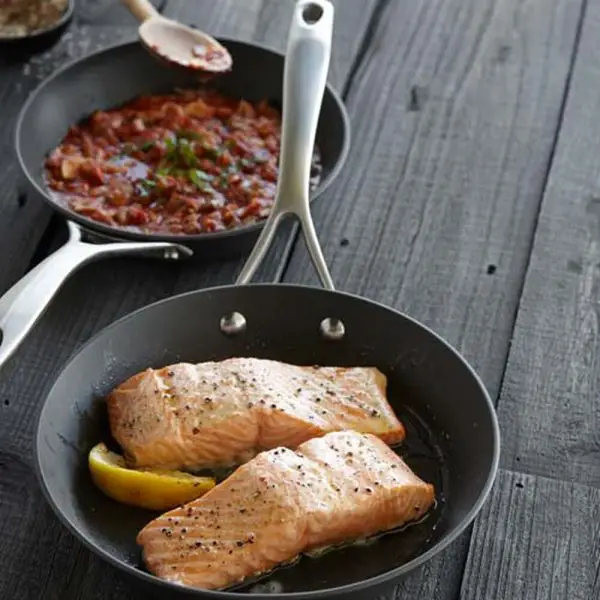 Fish for compliments when serving up perfectly seared salmon in a sauce loaded with savory tomatoes, olives and artichokes.

Ingredients
Makes 4 servings
4 (5 to 6 ounce) skinless salmon fillets, pin-bones removed, about 1-inch thick

2 tablespoons olive oil

1 yellow onion, chopped into ¼–inch dice

1 medium garlic clove, peeled and minced

1/3 cup canned crushed tomatoes

1/3 cup dry white wine

2 tablespoons lemon juice

½ cup drained and roughly chopped canned artichoke hearts

½ cup pitted roughly chopped green olives

2 tablespoons minced basil, plus more for garnish

2 tablespoons canola or vegetable oil
Procedure
Preheat an oven to 425 degrees and position an oven rack in the center.
To prepare sauce
Place a large heavy skillet on the stove over medium heat and add the oil.

When the oil is shimmering, add the onion and cook until tender, about 6 minutes.

Add the garlic and cook until fragrant, about 1 minute.

Stir in the wine, lemon juice, tomatoes, artichokes and olives and simmer until the sauce is thick and the vegetables are tender, about 8 minutes.

Stir in the basil, taste and adjust seasoning with salt and pepper.
To prepare salmon
Generously season the salmon.

Place a large skillet on the stove over a medium heat and add the oil.

When the oil is shimmering, add the salmon filet, presentation side first and cook until lightly browned, about 2 to 3 minutes.

Using a fish spatula, carefully flip the salmon and transfer to the oven to cook until the fish begins to flake, about 8 minutes, depending on the thickness of the filet.
To serve:
Transfer salmon on individual serving plates.

Using a spoon, place the artichoke and olive sauce over the top and serve immediately.