Salt Cod Au Gratin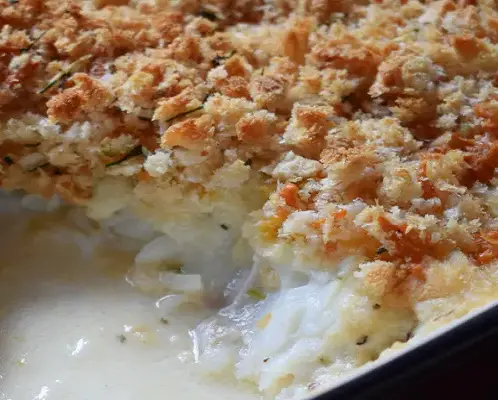 Ingredients:
Serves 4..
l and 3/4 lbs (800 grams) salt cod, soaked and drained

1 onion, chopped

4 canned anchovy fillets in oil, drained

7 tablespoons extra virgin olive oil

2 garlic cloves

1 and 3/4 pints (1 liter) milk

1 fresh flat-leaf parsley sprig, chopped

1

cup

panko breadcrumbs

or coarse breadcrumbs

Salt and pepper
Directions:
Preheat the oven to 18O°C (350°F)

Slice the salt cod into fairly large pieces and remove the skin and bones.

Heat 4 tablespoons of the olive oil in a roasting tin.

Add the onion and garlic.

Cook over a low heat, stirring occasionally, for about 5 minutes.

Add the salt cod and cook until golden brown on both sides.

Pour in the milk.

Season with salt and pepper.

Cover the tin with foil.

Preheat the oven to 18O°C (350°F)

Transfer to the oven and bake for about 2 hours or until the milk has completely absorbed.

Place the anchovy fillets and the remaining olive oil in a small saucepan and cook over a low heat, mashing with a wooden spoon until the anchovies have almost completely disintegrated.

Spoon the anchovy sauce over the salt cod.

Sprinkle with the parsley

Sprinkle with the

panko breadcrumbs

and cook until golden brown.