Sausage and Bean Stew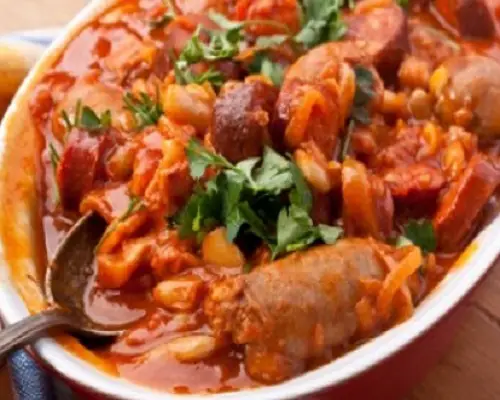 INGREDIENTS
Serves 4 to 6 people
1 pound of hot or mild Italian sausage

2 Tbls of extra virgin olive oil

1 medium yellow onion, sliced

1 green bell pepper, diced

2 carrot, peeled and diced

2 stalks of celery

1 medium zucchini, diced

2 cloves of garlic, chopped

1 8oz can of tomato paste

1/2 cup of red wine.

2 15oz can of diced tomatoes

2 15oz cans of cannelloni beans, drained and rinsed

1 cup of beef broth

1 tsp of fresh rosemary

6 fresh basil leafs, chopped

1 tsp of dried oregano

1/2 tsp of salt

1 tsp of fresh grated black pepper

1/4 cup of fresh flat leaf Italian parsley
PREPARATION
In a large frying pan cook the sausage until they are browned on all sides.

Remove the sausage and drain on a paper towel.

Heat the olive oil in a large pot.

Sauté the onions, bell pepper, carrot, celery, zucchini and garlic until slightly tender. Around 2 to 3 minutes.

Stir in the tomato paste and cook for another 2 minutes.

Add the wine, tomatoes, cannelloni beans and beef broth.

Season with rosemary, basil, oregano, salt and pepper.

Turn the heat up and bring the mixture to a boil.

Cut the sausage into 1 to 2 inch pieces and add to the bean mixture.

Lower the heat, over and simmer for 1 hour.

Serve and garnish with parsley.