Sausage and Broccoli Rabe with Cranberry Beans
Sausage and Broccoli Rabe with Cranberry Beans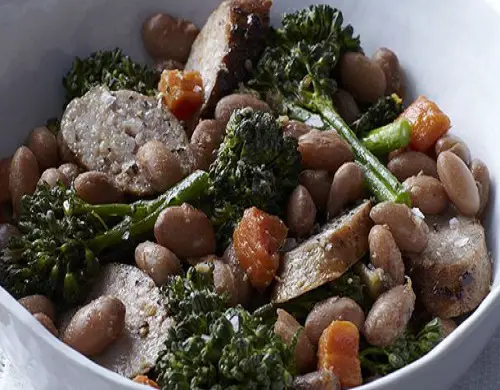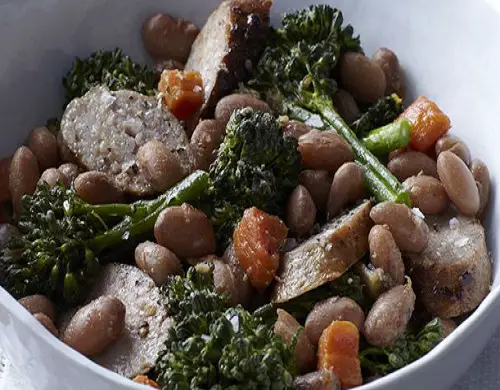 Serves 6.
Ingredients:
3/4 lb sweet Italian sausage
1 lb broccoli rabe, trimmed, stems peeled, cut into 2-inch lengths
2 cups dried cranberry beans or white beans, soaked overnight
1 medium yellow onion, peeled and chopped
2 small carrots, peeled and chopped
2 stalks celery, chopped
2 tbsp finely chopped fresh parsley
3 cloves garlic, peeled and minced
2 sprigs fresh oregano
2 tbsp extra-virgin olive oil
Salt and freshly ground black pepper
Directions:
Heat olive oil in a large skillet over medium-high heat.
Add sausage, and cook, browning on all sides, for about 13-15 minutes.
Remove sausage from pan.
Cut into large pieces, and set aside.
Reduce heat to medium-low, add onions, and cook until soft, about 18-20 minutes.
Add carrots, celery, and parsley and cook, stirring occasionally, for about 10 minutes.
Add garlic and oregano and cook for another 2 minutes.
Return sausage to skillet.
Add beans and about 3 cups of water to cover.
Bring to a boil over high heat.
Cover, reduce heat to medium-low, and cook until beans are just tender, about 35-40 minutes.
Uncover, increase heat to medium-high, and reduce liquid by half, about 10-12 minutes.
Add broccoli rabe, mix well, cover, and cook until rabe is tender, 6-8 minutes.
Season with salt and pepper.
Transfer to a large bowl and serve. Serves 6.