Sausage and Kale Soup with Pumpkin and Farro
Sausage and Kale Soup with Pumpkin and Farro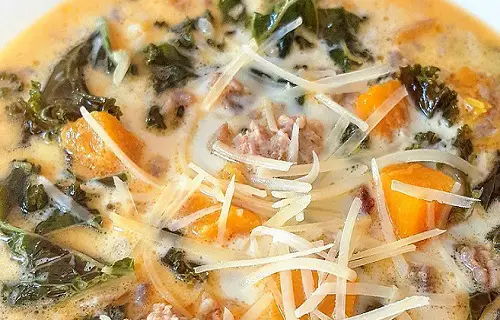 Ingredients
Serves: 4 to 6
1 pound chicken or pork Italian sausage, removed from casings

1 onion, cut into medium dice

1 teaspoon dried thyme leaves

1 cup farro

1 quart chicken broth

1 can (15 ounces) pure pumpkin

1 pound frozen chopped kale or other hearty greens, thawed

2 tablespoons cider vinegar

4 teaspoons maple syrup
Instructions
Heat a large pot over medium-high heat; add sausage and cook, breaking it into small bits, until it loses its raw color, just a few minutes.

Add onion; cook until softened, 4 to 5 minutes longer. Add thyme, farro, and broth; bring to a simmer. Reduce heat to medium-low and continue to simmer until farro is almost tender, about 15 minutes.

Add pumpkin, greens, vinegar and maple syrup; return to a simmer and cook to blend flavor, about 5 minutes longer. Serve!