Sausage Potato and Squash Casserole
Sausage Potato and Squash Casserole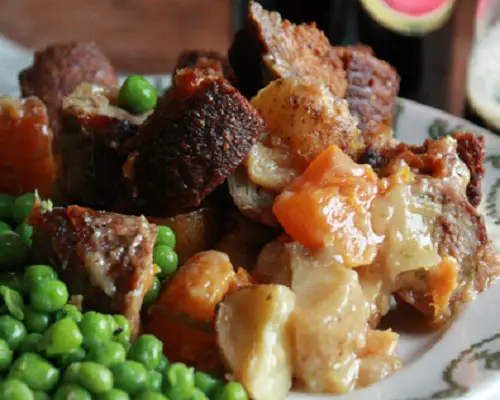 Ingredients
6 servings
1 lb bulk  Italian sausage (hot or mild; your choice of pork, chicken, or turkey)

12 oz. peeled  butternut squash, cut into bite-size cubes (about 3/4")

1 lb baby yellow or fingerling potatoes, cut into bite-size cubes

1 medium red onion, chopped

3 tbsp olive oil

1 tbsp freshly squeezed lemon juice

1 tsp sea salt

1/2 tsp freshly ground black pepper

1/2 tsp garlic powder

1 tsp smoked paprika

1 tsp dried thyme
Directions
Preheat oven to 425F.

Drizzle olive oil on large baking sheet, then add butternut squash, potatoes, and red onion; toss to coat well in oil.

Sprinkle evenly with salt, pepper, garlic powder, thyme, and paprika, and then toss again; spread into one single, even layer across the pan.

Bake at 425F for 15 minutes, then remove pan from oven and stir veggies well.

Dot the top of veggies with bite-size pieces of the Italian sausage. (If using lower fat chicken or turkey sausage, drizzle the top with another tablespoon of olive oil.)

Return pan to oven and bake 30-40 minutes more, until veggies and sausage are golden brown and crispy on the edges.