Sausages with Bitter Broccoli
Sausages with Bitter Broccoli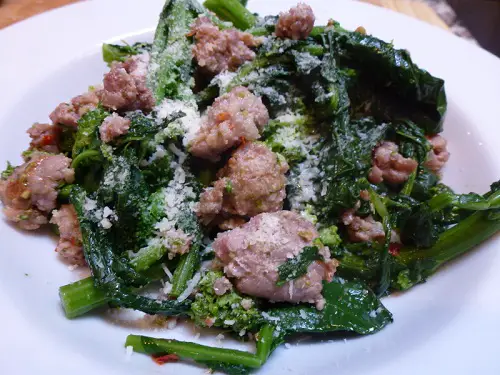 Ingredients:
2 lbs fresh sweet pork sausages

1 small peperoncino (hot red pepper)

6 lbs bitter broccoli

6 tbs extra virgin olive oil

4 cloves garlic
Directions:
Prick the sausages with a fork so they don't burst while cooking.

Heat 1 tbs virgin olive oil and sauté the sausages over a medium flame.

When they get a color, add 1/2 cup of water and continue to cook for 12 minutes.

Remove from heat and set aside.

Clean the broccoli discarding the stems and the larger leaves (wash thoroughly but do not drip dry).

Heat the remainder of the olive oil in a large casserole.

Add the garlic and peperoncino.

Remove garlic when brown and add bitter broccoli.

Sauté over medium heat, for 20 minutes with the casserole covered, stirring occasionally.

Add the sausages and cook for another 5 minutes with the pot uncovered.

Remove from heat and serve.