Sauted Halibut Recipe In Lemon Butter Wine Sauce
Sauted Halibut Recipe In Lemon Butter Wine Sauce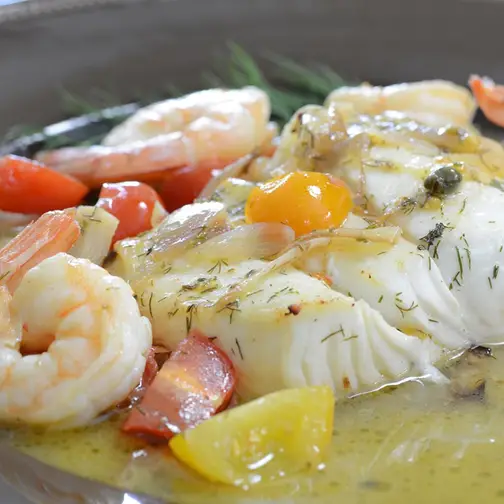 This great Halibut recipe marries the natural lightness and mild flavor of this fish (which is very much like Sea Bass), with a citrusy, aromatic lemon butter sauce with just the right amount of white wine flavor, plus a finish in the broiler for a fabulous crust!

Ingredients
Yield: 4 Servings
4 x 8 oz. pieces of Halibut

salt and pepper to taste

4 shallots

3 leeks

1 tbsp. olive oil

6 oz. salted butter (1 ½ sticks)

1 ½ cups Riesling white wine

1 tbsp. chopped fresh dill

1 ½ fresh lemons

2 tbsp. capers

12 oz. mixed medley tomatoes, washed and quartered

16 Jumbo shrimp, cleaned and deveined, tails on
Directions
Place a large sauté pan on the stove at medium heat. Also turn your oven onto high broil.

Light salt and pepper the tops of the halibut and set aside.

Peel the shallots and chop each half into 4 pieces.

Take the leeks and remove the outer most leaf, cut off the bottoms and wash. Then cut the leek where the white part turns green. Take the white portion, cut in half, and then cut each half into julienne strips.

Add the olive oil to the sautee pan, wait 30 seconds, and then add the shallots and leeks, and a couple of twists of fresh pepper and a pinch of salt, and cover. Sautee the shallots and leeks for about 5 minutes until they start to get a little crispy and soft, stirring every minute and keeping covered with a lid while not stirring. Then add 2 tbspns of butter and ¼ cup of the Reiseling and mix until melted.

Then add the Halibut to the pan, skin side down, and sprinkle over the fresh dill. Add the remaining Riesling. Chop the remaining butter into chunks, saving aside 2 tbspns of the butter for later, and then add the chunks to the pan. Squeeze the juice of the 1 ½ lemons into the pan through a strainer to remove the seeds. Cover and continue cooking for about 10 minutes.

Remove the Halibut from the pan and place with a little bit of the sauce into a new, smaller metal pan that will fit the halibut. Add to the pan on the stove the capers, quartered tomatoes, shrimp and mix. Continue to cook until the shrimp are done, about 3-5 minutes. Salt and pepper to taste. Remove from heat.

Take the 2 tbspns of remaining butter, and slice into ½ tbspn size pieces and place over each piece of halibut. Place the pan with the halibut into your oven on high broil. Watch carefully and continue to bake until the tops of the halibut just start to get a little crispy brown. Depending on your oven it may take 2-5 minutes. Remove the pan from the oven (be careful the pan will be very hot).

Plate with the halibut in the center, spoon over lemon, butter, shallot and leek sauce from the pan, and arrange 4 shrimp around the halibut.