Sautéed Broccoli Rabe with Italian Sausage
Sautéed Broccoli Rabe with Italian Sausage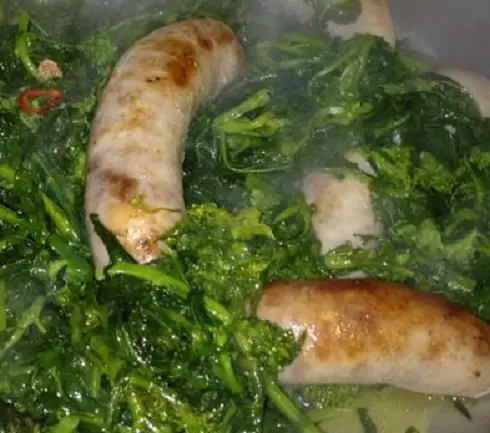 Ingredients
3 pounds broccoli rabe (about 3 medium bunches), trimmed
1 1/2 pounds sweet Italian sausage links,
5 tablespoons extra-virgin olive oil
5 garlic cloves, chopped
Preparation
Cut broccoli rabe into 3-inch-long pieces. Cook in a large pot of boiling salted water (3 tablespoons salt for 6 quarts water), uncovered, until tender, about 5 minutes. Drain, then rinse under cold water to stop cooking. Squeeze out excess water from handfuls of broccoli rabe.
Meanwhile, preheat broiler.
Broil sausage in a 4-sided sheet pan 3 to 4 inches from heat, turning occasionally, until cooked through, about 5 minutes. Keep warm, covered.
While sausage broils, heat oil in a 12-inch heavy skillet over medium-high heat until it shimmers, then cook garlic, stirring, until fragrant but not browned, about 1 minute.
Separate broccoli rabe, then sauté in garlic oil until coated with oil and heated through, about 4 minutes. Stir in sausage.