Sautéed Dandelion Greens with Pouched Eggs
Sautéed Dandelion Greens with Pouched Eggs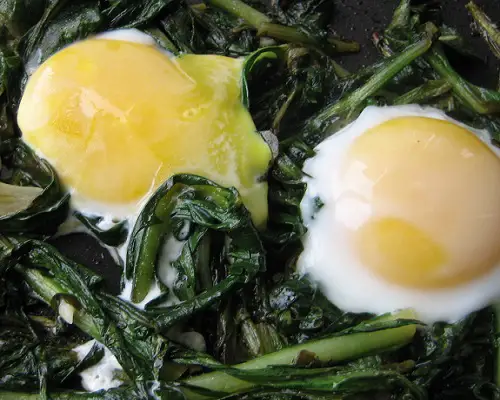 Ingredients
1 large bunch dandelion greens, rinsed but not dried, roughly chopped,

1 tablespoon extra virgin olive oil

2 garlic cloves, peeled and sliced thin

4 eggs, separate whites from yolks, set aside

Imported Parmesean cheese, freshly grated

Salt and Pepper to taste
Direction
Heat olive oil in large skillet over medium heat add  garlic slices and stir until translucent but not browned, about 3 minutes.

add dandelion greens with water clinging to them and cook, using tongs to turn greens, until thoroughly wilted but bright green, about 5 minutes.

Poach the eggs in the same skillet on medium heat with the cooked greens, by make small wells in the greens.

Pour the yolks into the wells to poach. Cover. The steam from the greens poaches the yolks.

Whisk and pour the reserved egg whites around the edge of the skillet and add salt, pepper and cover.

Top with grated Parmesean cheese.