SAUTEED SPINACH WITH MOZZARELLA RECIPE
SAUTEED SPINACH WITH MOZZARELLA RECIPE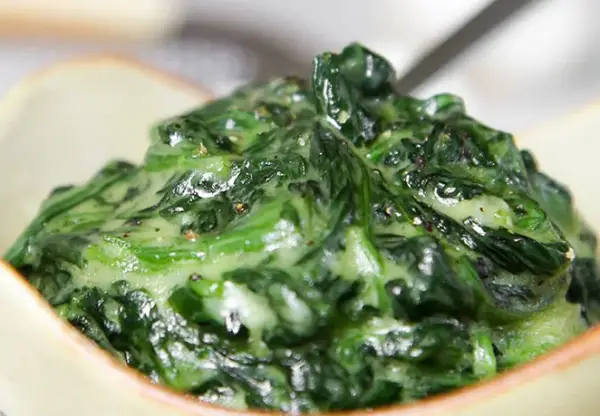 Sauteed spinach and mozzarella is a delicious Italian side. This recipe is perfect paired with eggs and meats.

Ingredients
    1 Lb fresh spinach (450 g)

    tap here

    5 oz bufala mozzarella (100 g)

    4 tbsp Parmigiano Reggiano cheese

    2 cloves of garlic

    3 tbsp unsalted butter

    ⅓ tsp black pepper

    to taste table salt
Instructions
FIRST STEPS
    Rinse the spinach leaves. Peel and crush the cloves of garlic.

    Melt the butter over medium heat in a pan big enough to cook the spinach.

    Sauté the garlic along with melted butter until golden.
SAUTEED SPINACH AND MOZZARELLA
    Pour the spinach into the pan along with golden garlic.

    Sauté the spinach over medium heat, stirring frequently. When almost all the water inside the spinach is evaporated, salt as need and cook a couple of minutes more.

    Low the heat then add shredded bufala mozzarella and Parmigiano Reggiano.

    Stir well until all the cheese is well melted and the sauteed spinach are consistent.

    Complete with a generous dash of black pepper.

    Serve immediately, hot and creamy.