Scaloppine With Artichoke Hearts
Scaloppine With Artichoke Hearts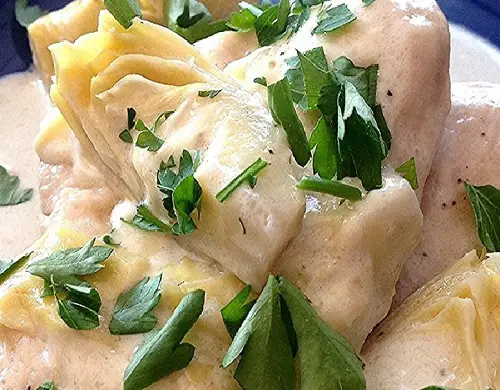 Serves: 4
Prep: 5-10 minutes
Cook: 20-25 minutes
Ingredients
1 3/4 –2 lb. Thin Scallops of Veal or Chicken Breast
1 Garlic Clove – thinly cut in 3-4 slices
2 C. Quartered Artichoke Hearts – if canned, rinse and drain
3 Tbsp. Olive Oil
1 Tbsp. Butter
Salt and pepper to taste
1/2 C. Dry White Wine or Dry Vermouth
3/4 C. Grated Parmigiano-Reggiano or Asiago Cheese
1 1/2 C. Heavy Cream – warmed
Fresh Chopped Italian Parsley for garnish
Instructions
Sprinkle your veal or chicken scallops with salt and pepper on both sides.
Prepare your artichoke hearts – cleaning and trimming if fresh and rinse and drain if canned.
Melt butter in the oil in a pan. Use a large fry pan with wide surface exposed to the heat.
Add the Garlic Slices and a cook a minute turning the garlic. Then remove the garlic and discard it.
Add the meat and cook on medium until browned on both sides.
Add the artichoke hearts and wine. Cook on medium high until liquid reduces down – about 10 minutes.
(Actually, if you decided not to use the cream and cheese, you might just add a little fresh lemon juice at this point and serve.)
Add the warmed cream and cheese. Stir and combine well, and correct the seasoning if needed.
Remove from heat and garnish with fresh parsley.
This SCALOPPINE WITH ARTICHOKE HEARTS can be served over capellini, spaghetti, or even risotto,