Scungilli  (Conch)Fritters
Scungilli  (Conch)Fritters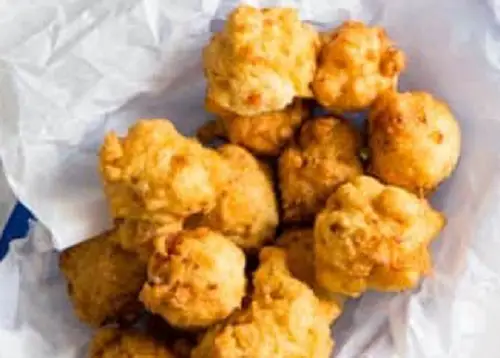 Ingredients:
(Serves 4)
1 pound scungilli, canned or frozen (thawed)

1 egg

1/3 cup milk

1-1/3 cups flour

2 teaspoons baking powder

1/2 teaspoon salt

1 tablespoon finely chopped onion

1/2 teaspoon hot pepper sauce

Vegetable oil for deep frying

Tomato sauce for dipping
Directions:
Finely chop the scungilli in a food processor.  Transfer the scungilli to a bowl.

Add the milk and egg; mix well.  Add the flour, baking powder, salt, onion, and pepper sauce.  Mix well to combine.

In a deep fryer, heat the oil to 375 degrees F.

Drop the fritter mixture by tablespoons into the hot oil.

Deep fry the fritters until brown on all side, about 3 to 5 minutes.

Drain the fritters on paper towels.

Serve the fritters hot with tomato sauce for dipping.