Seared Scallops with Blood Orange Vinaigrette
Seared Scallops with Blood Orange Vinaigrette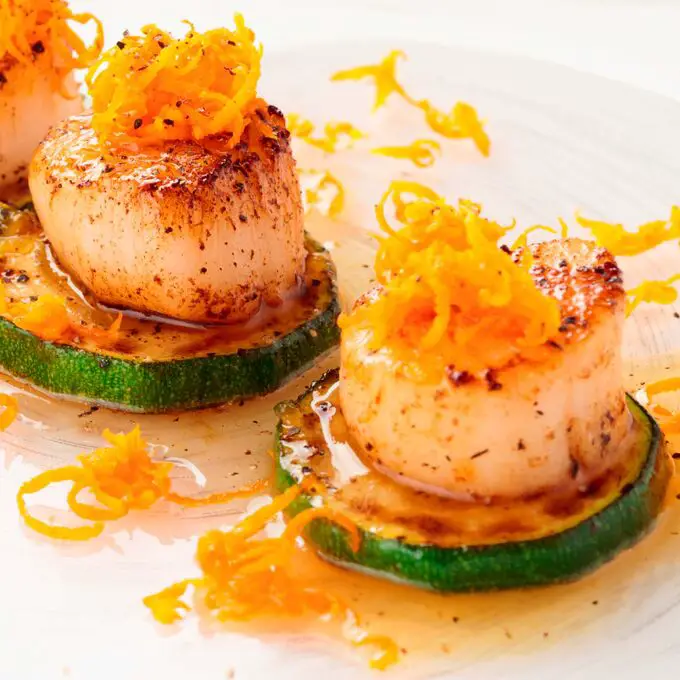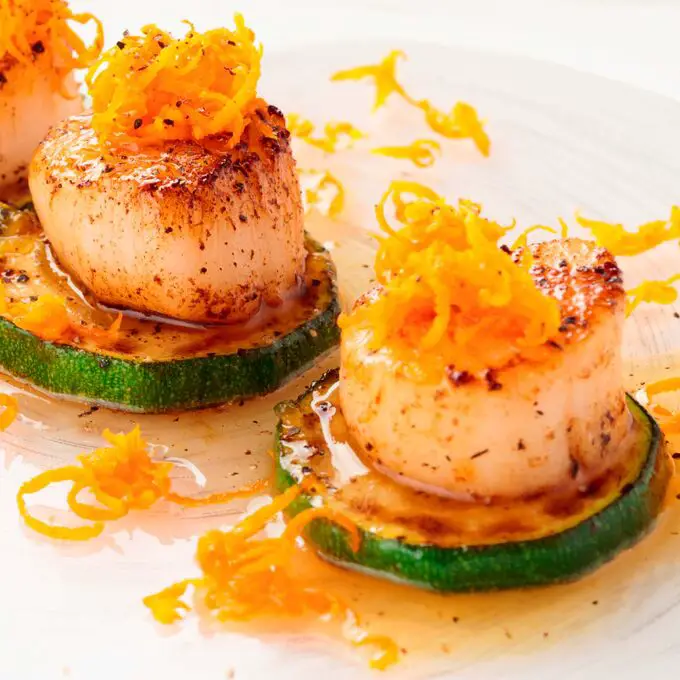 Serves
Makes 4 servings
Ingredients
1-½ pounds scallops, tough ligament removed from the side
Kosher salt and freshly ground black pepper
4 blood oranges (substitute regular oranges if out of season)
2 tablespoons champagne vinegar
½ cup freshly squeezed orange juice
4 tablespoons extra-virgin olive oil
2 tablespoons canola or vegetable oil
2 tablespoons minced flat-leaf parsley
Procedure
The succulent and sweet flavor of scallops pairs perfectly with the slightly tart yet sweet blood orange vinaigrette. For even cooking with a crisp exterior, it is suggested that the exterior of the scallops are patted dry prior to cooking, seasoned and allowed to come to room temperature prior to being placed into a hot pan.
Remove the scallops from the refrigerator and season with salt and pepper. Allow to come to room temperature.
To prepare oranges: Trim the peel from each orange to expose the segments. Working over a small mixing bowl to catch the juices, remove the orange segments from the membranes using a sharp paring knife and discard any seeds. Place the orange segments in another small mixing bowl. Using a sharp knife cut each orange segment in half and place back into the small bowl. Use the reserved orange juice for the vinaigrette.
To prepare vinaigrette: In a small bowl, use a whisk to combine the vinegar and orange juice. While whisking vigorously, slowly drizzle olive oil into vinegar mixture to form an emulsion. Taste and season with salt and pepper.
To cook scallops: In a large non-stick skillet, over a high heat, add canola oil and heat until the oil starts to shimmer. Carefully add the seasoned scallops to the skillet, sear until browned on both sides and just opaque in the center, about 2 to 3 minutes per side, depending on the size.
To serve: Whisk the vinaigrette until thoroughly combined and add orange segments. Divide the scallops between 4 warmed plates and drizzle the blood orange vinaigrette over the scallops, placing the segments around the dinner plate. Sprinkle with chopped parsley and serve immediately.