Shells Stuffed with Sausage, Spinach and Artichokes
Shells Stuffed with Sausage, Spinach and Artichokes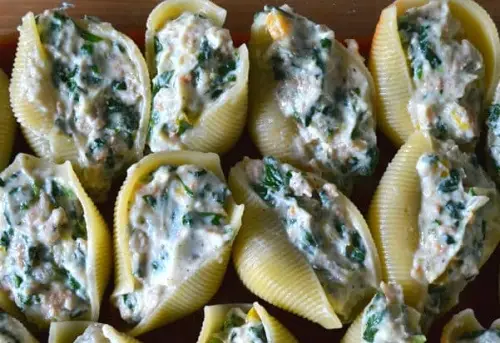 Ingredients
1 box jumbo pasta shells

1 pound Italian sausage

1 large container ricotta cheese

1 box frozen chopped spinach, defrosted and drained

1 can quartered artichoke hearts, chopped

1/4 cup butter

1/4 cup flour

3 cups milk

2 cups Italian-blend shredded cheese

3/4 cup parmesan cheese
Directions
1. Cook pasta shells according to package directions, just to al dente; drain and rinse with cold water. Set aside.
2. Brown sausage in a medium skillet; remove from heat and let cool.
3. In a large bowl, combine ricotta cheese, spinach and artichokes. Add cooled sausage to mixture.
4. Melt butter in a large saucepan over medium heat. When butter is melted, stir in flour. Continue to stir and cook for one minute until flour is thoroughly combined. Add milk and cook until sauce begins to thicken. Add cheeses to sauce, along with salt and pepper to taste.
5. Stuff each shell with the ricotta mixture and place in a greased baking dish. Pour sauce over stuffed shells. Cover with aluminum foil and cook in a 350° oven until sauce begins to bubble, about 30 to 45 minutes.