Shells with Ricotta Sauce
Shells with Ricotta Sauce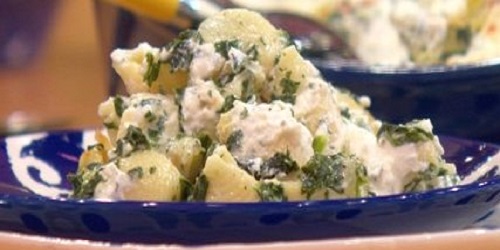 INGREDIENTS
Serves 4 people
1 pound of medium shells

1 pound of ricotta cheese

2 bunches of long green onions, chopped

1 red bell pepper, chopped

5 plum tomatoes, peeled, seeded and chopped

2 Tsp of extra virgin olive oil

1 tsp of butter

2 Tbls of capers, drained

2 Tbls of fresh basil, chopped

1/2 tsp of salt

1 tsp of fresh ground black pepper

4oz of shredded Mozzarella cheese

¼ cup of fresh parsley, chopped
PREPARATION
In 6 quarts of salted boiling water, cook the shells until al dente.

While the pasta is cooking sauté the onions, bell pepper and tomatoes in the butter and oil until tender.

Stir in the capers and basil.

Add the ricotta.

Season with salt and pepper.

Simmer and stir for around 10 more minutes until all the ingredients are blended.

Drain the pasta, mix in the sauce and sprinkle with mozzarella and parsley.
.