Shrimp Stuffed Portobello Mushrooms
Shrimp Stuffed Portobello Mushrooms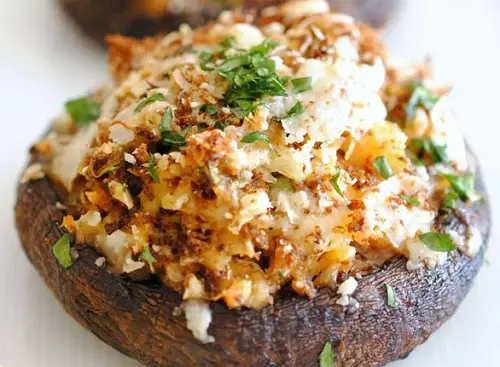 Ingredients:
Makes 4 (appetizer) servings.
1/4 cup extra virgin olive oil

1/2 cup chopped onion

1/4 cup chopped fresh basil

3 large garlic cloves, chopped

1/2 teaspoon chopped fresh rosemary

6 ounces cooked bay shrimp

2/3 cup fresh breadcrumbs

1/4 cup mayonnaise

Eight (2 to 2 and 1/2-inch) Portobello mushrooms, dark gills removed
Directions:
Heat olive oil in heavy large skillet over medium-high heat.

Add onion, basil, garlic, and rosemary.

Saute until onion softens, about 5 minutes.

Transfer to medium bowl; mix in shrimp, breadcrumbs and mayonnaise.

Season filling to taste with salt and pepper.

Arrange mushrooms, rounded side down, on oiled baking sheet.

Mound shrimp filling in mushrooms, pressing filling to compact slightly. (Can be made 6 hours ahead. Cover and refrigerate.)

Preheat oven to 350° F.

Bake mushrooms until tender and filling begins to brown, about 35 minutes. Serve hot.