Shrimps with Cannellini Beans Toscana
Shrimps with Cannellini Beans Toscana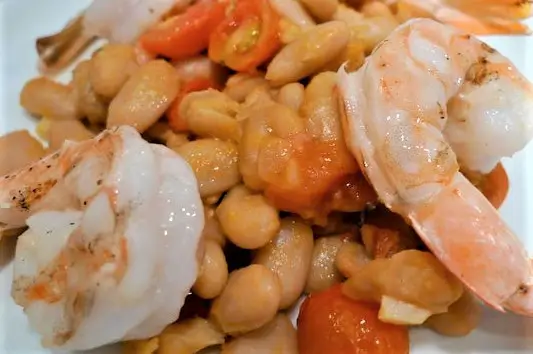 Ingredients:
Serves 6-8
20 large shrimps or medium-size prawns

1/2 oz rosemary, chopped

1/2 lb cannellini beans (boiled)

4 tbs extra virgin olive oil

2 tomatoes, diced

3 and 1/2 oz water used to boil beans

Salt and pepper
Directions:
After soaking the cannellini beans overnight, cook them in lightly salted cold water for one hour or until tender.

Heat 1 oz. of olive oil in a casserole; brown the garlic and remove it.

Add the shrimps and cook each side for 1 and 1/2 minutes.

Add the rosemary, tomatoes, cannellini beans, water, salt and pepper and simmer for 3 more minutes, over a medium heat.

Remove from heat; place either in single serving plates or in a platter.

Top with a spoonful of extra-virgin olive oil and serve straight away.