Sicilian Buccellati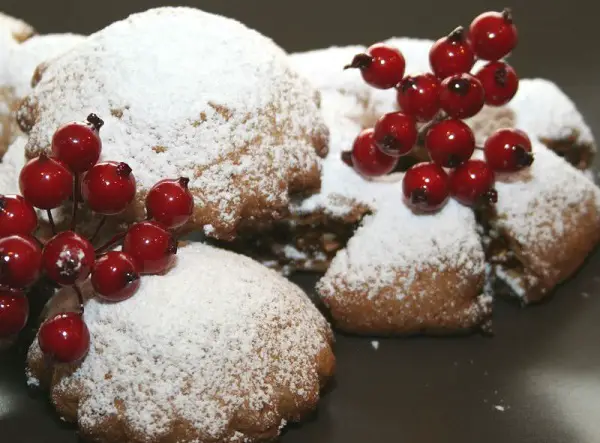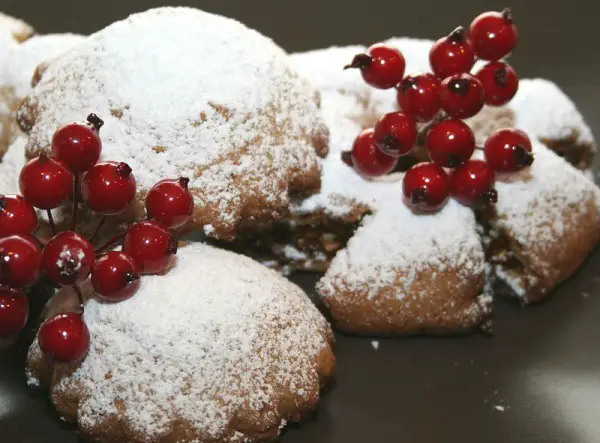 Ingredients
for 8 people:
Flour 500g

caster sugar 150g

lard (or margarine) 150 gr

ammonia for desserts 5 g

4 tablespoons of honey

dried figs 400g

skinned almonds 50g

vanilla

1 orange

cinnamon

cloves

colored comfits (to taste)

icing sugar.
PREPARATION
Mix together the flour, caster sugar, lard, 2 tablespoons of honey, ammonia, a pinch of vanilla and enough water to obtain a homogeneous mixture.

Wrap the mixture in plastic wrap and place in refrigerator for 30 minutes.

Meanwhile, chop finely the figs along with almonds, the grated rind, a pinch of cinnamon and 1 clove.

Pour the mixture into a pan, add the remaining honey and cook for a few minutes, adding two tablespoons of water.

Turn off the heat and let cool.

Take the dough and roll out, with the aid of a rolling pin, some not too thin sheets measuring about 10 x 5 cm.

Place one tablespoon of filling on each pastry and wrap the dough over itself to form rolls.

Engrave the surface in some places then, bend arc every pastry.

Arrange the buccellati on a baking sheet lined with parchment paper and sprinkle the surface (optional) with colored comfits.

Bake in preheated oven at 200 ° C for 30 minutes then remove from oven, sprinkle with icing sugar and serve.