Sicilian Sausage and Polenta Bake
Sicilian Sausage and Polenta Bake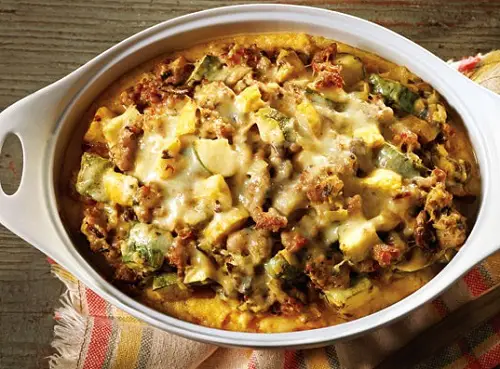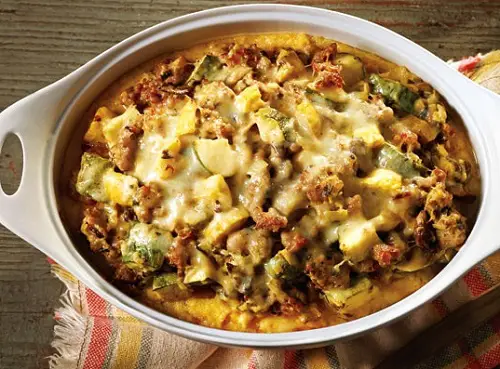 Polenta is a dish of boiled cornmeal. It can be eaten as a hot porridge or when it cools, it takes on a solid form which is then common to bake, fry or grill. Here is a baked dish prepared with sausage and vegetables.

Ingredients
    Cooking spray

    1 ¼ lb presliced yellow squash and zucchini

    1 large shallot, coarsely chopped

    1 (4-oz) package gourmet mushroom blend, coarsely chopped

    1 (32-oz) box reduced-sodium chicken broth (or stock)

    1 tablespoon olive oil

    1 lb mild Italian sausage, casing removed

    1 cup cornmeal

    3 tablespoons herb garlic butter

    1 teaspoon steakhouse burger seasoning

    1 (16-oz) container Deli artichoke & spinach dip

    ½ cup shredded Italian-blend cheese

    Aluminum foil

    ½ cup french-fried onions (optional)
Prep
        Preheat oven to 375°F. Coat 13- x 9-inch baking dish with spray.

        Cut squash and zucchini slices into quarters (about 3 cups).

        Chop shallot and mushrooms
Steps
    Bring broth to a boil in medium saucepan on medium-high. Preheat large sauté pan on medium-high 2–3 minutes. Place 1 tablespoon oil in pan, then add sausage; brown 5–7 minutes, stirring to crumble sausage, or until no pink remains.

    Whisk cornmeal into boiling broth and reduce heat to low. Simmer (uncovered) for 5 minutes, stirring often. Remove pan from heat; stir in garlic butter until melted.

    Add squash, zucchini, shallots, mushrooms, and burger seasoning to sausage; cook and stir 2–3 minutes or until squash begins to soften. Remove pan from heat; stir in artichoke dip.

    Spread polenta evenly in baking dish. Spread sausage mixture evenly over polenta; top with shredded cheese. Cover with foil and bake 20 minutes.

    Remove foil and top with fried onions; bake 8–10 more minutes or until hot and bubbly. Serve.