Skillet Chicken with Vegetables
Skillet Chicken with Vegetables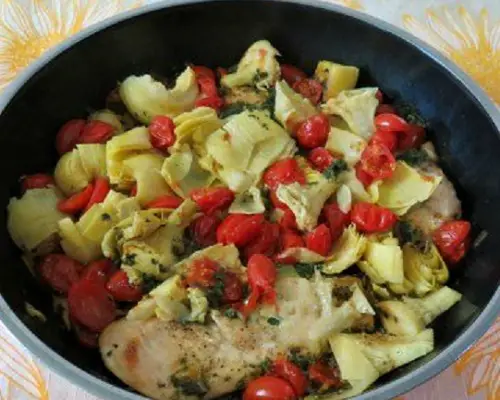 When making Skillet Chicken always brown the chicken pieces first so all the juice remains inside and the chicken is always moist and tender. You can also use sun-dried or fresh tomatoes for this recipe but I prefer the canned tomatoes for this because of the added juice.

INGREDIENTS
Serves 4 people
1 whole chicken, cut into 8 pieces

1 large leek, cleaned and sliced

1 cup o baby Portobello mushrooms, sliced

3 cloves of garlic, chopped

1/2 tsp of dried oregano

1/2 cup of fresh basil, shredded

2 Tbls of butter

2 Tbls of extra virgin olive oil

15 cherry tomatoes cut in half

1 cup of chicken broth

1 9oz package of frozen artichoke hearts

4 Tbls of cornstarch

1 tsp of fresh ground black pepper

1/2 tsp of salt
PREPARATION
Season chicken with salt and pepper

In a large skillet sauté the chicken pieces in the butter and oil on both sides until browned.

Remove the chicken from the skillet.

Saute the garlic, mushrooms and leeks until tender.

Return the chicken to the skillet.

Add the broth, tomatoes, oregano and basil.

Bring to boil.

Reduce the heat, cover and simmer for around 20 minutes.

Thaw the artichoke hearts out and cut in half.

Add the artichokes to the chicken and simmer for 10 to 15 minutes more.

Remove the chicken to a platter.

Mix together the cornstarch with 2 Tbls of water.

Add the cornstarch to the skillet to thicken the sauce.

Pour the sauce over the chicken and your ready to serve..