Spaghetti alla Lemone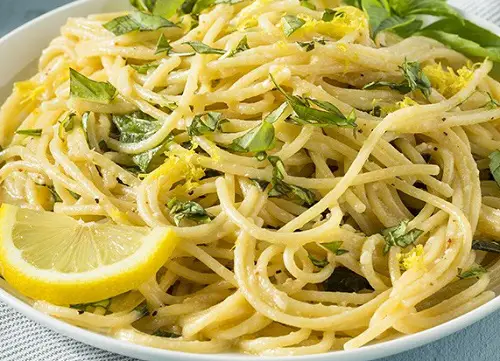 Spaghetti alla Lemone can be served as a full meal or as a side. This is also a great luncheon recipe for the springtime, if it ever gets here. It's a very simple recipe to make.
INGREDIENTS
Serves 4 people
1 pound of spaghetti or other pasta

4 Tbsp of extra virgin olive oil

2 Tbsp of butter

1 clove of garlic, chopped

1 lemon, zest and juice

1 tsp of dried oregano

1 tsp of dried thyme

1/2 cup of white wine

1/2 cup of fresh basil, chopped

1/4 cup of fresh Italian flat leaf parsley, chopped

1/2 cup of fresh grated Parmesan cheese

1/2 tsp of salt

1 tsp of fresh ground black pepper

 
PREPARATION
In 6 quarts of boiling salted water, cook the pasta until al dent. Around 10 minutes.

Meanwhile, using a large frying pan, saute the garlic, lemon zest, oregano and thyme in the olive oil and butter for 2 minutes.

Add the lemon juice and wine and cook 2 to 3 minutes.

Drain the pasta and toss into the oil mixture.

Add the fresh basil, parsley, Parmesan, salt and pepper.

Toss all the ingredients together to coat the pasta thoroughly.

Serve with extra Parmesan and lemon garnish.