Spaghetti with ham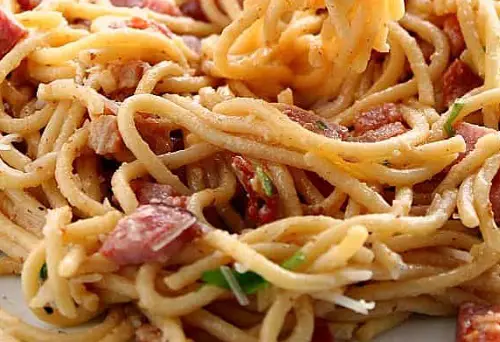 Ingredients for 6 people:
Spaghetti (or other long pasta) 600 gr
diced ham 150 gr
lard 20 grams
ripe tomatoes without seeds, skin and vegetation water 800 g
1 onion, chopped
1 chopped carrot
1 stalk of celery, chopped
red wine ½ dl
salt, pepper.
PREPARATION
In a pan (preferably earthenware) fry with lard the chopped vegetables and just begin to brown add the chopped tomatoes, cut into cubes, add the wine, salt to taste, sprinkle with pepper and simmer with the lid on for about 40 minutes . A nearly complete cooking add the diced ham and let stand.
Boil the pasta in a large pot of salted boiling water and just is cooked, drain and toss with the sauce. Serve piping hot.