Spaghetti with Salmon, Baby Artichokes, & Tomatoes
Spaghetti with Salmon, Baby Artichokes, & Tomatoes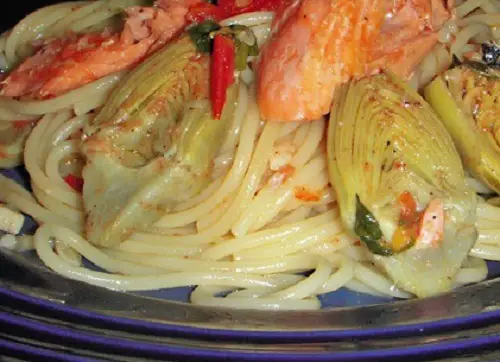 Ingredients:
Serves: 4
Prep: 45 minutes
1 lb. Spaghetti

About 3/4 lb piece of fresh salmon (wild caught Alaskan is great!) – drizzle with a little Olive Oil and sprinkle with Kosher Salt and Freshly Ground Pepper

3 Tbsp. Olive Oil

3 Cloves Fresh Garlic Chopped

6-8  Ripe Red Fresh Tomatoes – Chopped

12 Fresh Baby Artichokes – cleaned or canned or frozen artichoke hearts, rinsed, drained, and in halves

2 Tbsp. Fresh Oregano leaves

1/4 c. Chopped Fresh Basil

Kosher Salt

Freshly Ground Black Pepper

Extra Virgin Olive Oil for drizzling
Instructions:
Boil the baby artichokes for15 minutes. Drain and set aside. If using canned artichoke hearts, rinse and drain them well and slice them in half.

Season salmon as directed above.

Grill the salmon using a cedar plank.  Do not overcook the salmon – reddish in middle is good. You don't want it dry.

Heat the 3 Tbsp Olive Oil in a pan and add chopped garlic. Cook a couple of minutes – do not brown.

Add chopped fresh tomatoes and fresh baby artichokes ( or canned artichoke hearts).

Season with Kosher Salt and Pepper to taste. Cook about 5 minutes.

Add fresh herbs and stir.

Make spaghetti according to package directions.

Add the pan ingredients to the spaghetti and toss gently.

Add Kosher Salt and pepper and mix in.

Add grilled salmon broken into pieces to the spaghetti.

You can add more fresh basil if you like.

Drizzle generously with Extra Virgin Olive Oil and serve.