Spaghetti with White Anchovies & Capers
Spaghetti with White Anchovies & Capers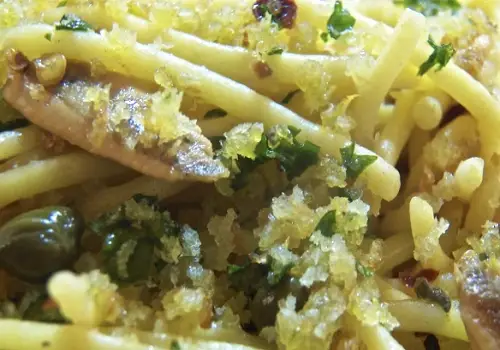 Ingredients
1 lb spaghetti

1/2 cup + 2 tbsp extra virgin olive oil, divided

6 whole white anchovies, drained & roughly chopped – more to taste

4 cloves of garlic, diced or grated – more to taste

1/8 tsp red pepper flakes – more to taste

2 tbsp nonpareil capers

1/2 cup Panko bread crumbs

zest of 1 lemon

3 tbsp fresh parsley, chopped

salt & pepper

reserved pasta water
Directions
Make the bread crumb topping:

In a small mixing bowl, combine bread crumbs, lemon zest, and 2 tbsp of olive oil. Season lightly with salt & pepper. Mix thoroughly.

In a small frying pan over med-high heat, lightly toast the bread crumb mixture. Do not allow to get too dark or it will ruin the dish. Remove from heat and set aside.

Bring a large pot of heavily salted water to boil. Add the pasta and stir.

In a large frying pan over med heat, add the remaining olive oil. Once hot, add garlic and red pepper flakes. Sauté for 1 minute.

Add the anchovies to the pan and continue sautéing until the pasta has cooked 2 minutes less than the package's cooking instructions indicate for al dente. If you've timed everything correctly, the anchovies should be sautéed for just a few minutes before the pasta is ready.

Drain the pasta, reserving 1 cup of the pasta water.

Add capers and pasta to the pan containing the anchovies. Gently toss to evenly coat the pasta with the anchovy & oil mixture. If too dry, add enough pasta water to create a sauce. Continue to sauté until the pasta is al dente, 1 to 2 minutes more.

Remove from heat, add 2/3 of the bread crumb mixture, and toss.

Place on a serving platter and garnish with remaining 1/3 of the bread crumb mixture.

Serve immediately.