Spicy Shrimp Pomodoro Sauce
Spicy Shrimp Pomodoro Sauce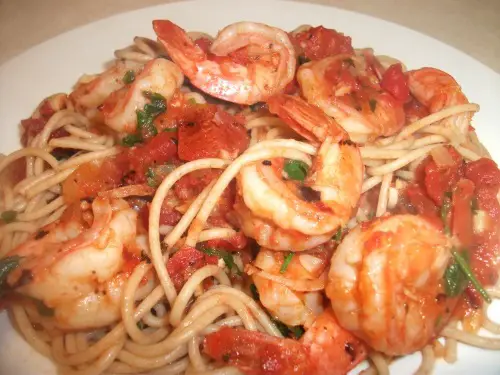 INGREDIENTS
Serves 4 people
1 pound of spaghetti pasta

1 pound of medium size shrimp, peeled and deviened

2 Tbls of extra virgin olive oil

1 Tblsof butter

1 yellow onion, chopped

1 shallot, chopped

2 cloves of garlic, chopped

1 Tbls of dried red pepper flakes

1/2 cup of white wine

10 Roma tomatoes, peeled, seeded and chopped

1 tsp of dried oregano

12 fresh basil leaves, chopped

1/2 cup of fresh flat leaf parsley, chopped

1 tsp of salt

1 tsp of fresh ground black pepper
PREPARATION
Cook the pasta in 5 quarts of boiling salted water until al dente. Around 10 to 12 minutes.

Drain and set aside.

In a large frying pan, fry the shrimp in the butter and olive oil for 2 minutes on each side.

Remove the shrimp from the pan and set aside.

Sauté the onions, shallot and garlic in the pan for 2 to 3 minutes.

Stir in the red pepper flakes and cook for another minute.

Add the white wine and cook until reduced by half.

Add the chopped tomatoes , oregano, basil, parsley, salt and pepper.

Cover and cook for 30 to 40 minutes. Add the shrimp back into the pan the last 10 minutes.

Toss in the pasta to the pan and coat thoroughly.
http://www.great-chicago-italian-recipes.com/spicy_shrimp_pomodoro.html