Spinach-Artichoke and Red Pepper Bites
Spinach-Artichoke and Red Pepper Bites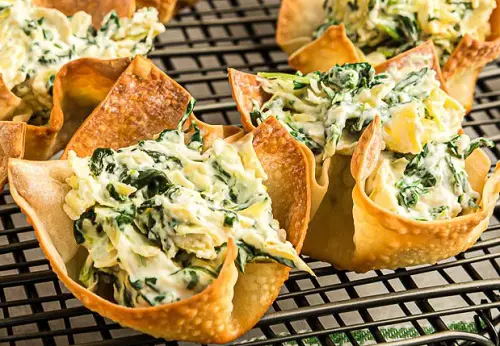 Ingredients
2 tablespoons butter
2 cloves garlic, minced
1 can quartered artichoke hearts in water, drained and chopped
Salt and pepper to taste
1 10-ounce box frozen spinach, thawed and squeezed dry
2 roasted red peppers, patted dry and diced
8 ounces cream cheese, softened
1/2 cup sour cream
3/4 cup shredded mozzarella cheese, divided
1/2 cup shredded parmesan cheese
1 bag cup-shaped tortilla chips (like Tostitos scoops)
Directions
1. Melt the butter in a medium saucepan over medium heat. Line a baking sheet with aluminum foil and preheat the oven to 350 degrees.
2. Add garlic and artichokes to saucepan and cook until heated through. Season with salt and pepper. Stir in spinach and roasted red peppers. Add cream cheese and sour cream and stir until smooth and thoroughly combined. Add 1/2 cup shredded mozzarella and the parmesan and stir until melted. Remove from heat.
3. Arrange tortilla cups on the prepared baking sheet. Add about a tablespoon of the dip to each cup. Sprinkle each cup with remaining mozzarella cheese.
4. Bake for 15 to 20 minutes, or until the filling is bubbling and the cheese on top is melted. Serve warm or at room temperature.